A professor of a taxpayer-funded state university is calling for National Rifle Association's (NRA) CEO Wayne LaPierre to be killed.
The professor is Erik Loomis (photo below), who's an assistant professor of history at the University of Rhode Island (URI).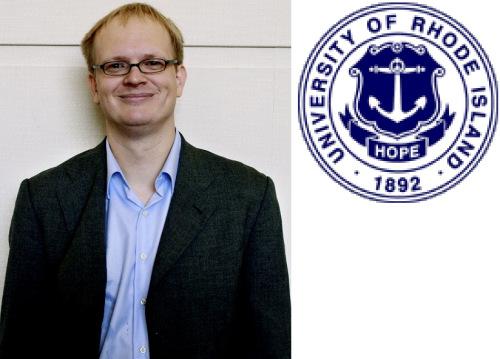 Oliver Darcy reports for Campus Reform, Dec. 17, 2012, that in the wake of Adam Lanza's killing of 20 children and 6 adults in Sandy Hook Elementary School in Newtown, Connecticut, Professor Loomis tweeted that " the National Rifle Association has murdered some more children." Loomis then called the NRA "a terrorist organization" and declared that he "want[s] Wayne LaPierre's head on a stick."
His tweets are now erased.
Thomas Lifson writes in American Thinker, Dec. 18, 2012, that Loomis  received his PhD in history from the University of New Mexico in 2008, and has a history of violent rhetoric directed against conservatives. In March of this year, in an essay ironically titled, "Are Conservatives Any Crazier Today Than 50 Years Ago?," Loomis called for a "decades-long fight to the death" against conservatives as America's "only hope."
Oddly, the hypocrisy and irony of an anti-gun prof calling for the assassination of the CEO of a pro-gun organization is lost on the professor. But that is because, as Lifson observes, Erik Loomis is projecting his own violent impulses onto conservatives.
According to URI's website, all members of the university community pledge to help foster an "inclusive environment recognizing and respecting diversity." But one of its faculty clearly does not abide by the university's pledge. If Professor Loomis is so venomous as to publicly call for the death ("head on a stick") of the CEO of an organization he disapproves, imagine how Loomis treats his students who are conservative and/or pro-Second Amendment.
I tried to find contact information for Loomis and the president of the U. of Rhode Island, David M. Dooley. But I cannot access the University of Rhode Island's (URI) website http://www.uri.edu, although there is nothing wrong with my computer or my high-speed Internet connection.
But information can be found from other public sources (Rhode Island White Pages and Spokeo):
David M. Dooley
56 Upper College Rd.
Kingston, RI 02881-2022
(406) 587-4336
Erik Loomis
19 Amity St, Apt 2
Providence, RI 02908
(401) 437-6598
H/t FOTM's Anon.
UPDATE
Contact info. for David Dooley, President, U. of Rhode Island:
Dooley issued this statement:
December 18, 2012
University Community:
The University of Rhode Island does not condone acts or threats of violence. These remarks do not reflect the views of the institution and Erik Loomis does not speak on behalf of the University. The University is committed to fostering a safe, inclusive and equitable culture that aspires to promote positive change.
Dr. David M. Dooley
President
University of Rhode Island
Wow! That statement sure makes everything all okay now. [Snark]
H/t my bud Mark S. McGrew for the Update!
~Eowyn