In the past three days, the Bitcoin price has declined by more than 6%. Since Bitcoin is now in a correction phase, there could be two scenarios playing out over the short term. According to an expert, it could either rise to $16,000 or drop to $9,600. BTC's chances of reaching $16k if its weekly chart closes above $11.5 k and dropping to $9.6 k if the price remains below $10.5k.
Another reason for expecting figures around $9600 is due to a CME gap. These gaps form on the future market chart because the regulated market closes during the weekend. A CME gap is generally closed within a short period.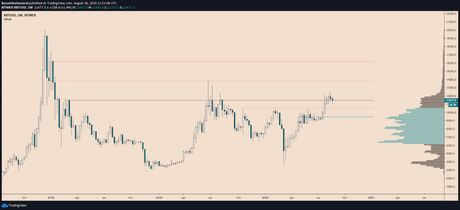 BTC briefly rose to $11,600 mark following the Federal Reserve chair Jerome Powell's speech on inflation. During the speech, many traders expected gold and Bitcoin to benefit, but shortly after the speech, the price dropped to $11,125.The sell-the-news drop in the Bitcoin and gold markets further intensified the downtrend, causing Bitcoin to retrace to early August levels.
These have resulted in breaking the short term bullish trend of Bitcoin, and it remains to be seen whether this will cause BTC to sway towards a bearish trend.
Post originally available at Two Pathways Ahead of Bitcoin