By Susan Duclos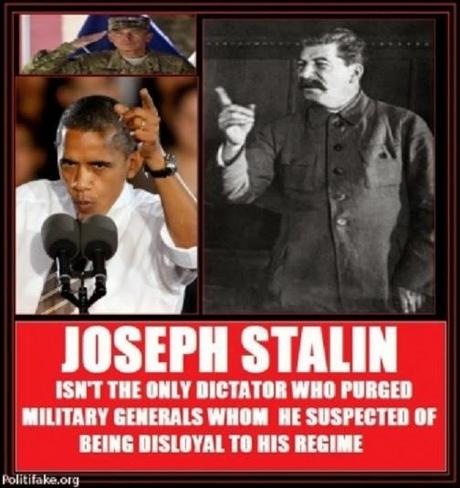 Two more Air Force nuke officers are under investigation for alleged drug use, according to the video news report below, making them the latest in a long list of firings, terminations and resignations from high ranking military members under Barack Obama which appears to have started back in 2010, with General Stanley McChrystal.
The question of whether these are all honorable military members who have refused to do Obama's unconstitutional bidding, or whether so many, moreso than under any other president were guilty of whatever the infraction they have been accused of, is a matter of much speculation, with many believing this type of purge" is reminiscent of Stalin's military purge, often referred to as Stalin's Terror.
Via the video details:
Two officers at nuclear missile site targeted in drug investigation
http://www.latimes.com/nation/la-na-n...
Officers at US nuclear missile base suspended in illegal drugs case
http://usnews.nbcnews.com/_news/2014/...
Nuclear officers busted for drugs while Hagel gives motivational speech
http://rt.com/usa/air-force-nuclear-s...
Other articles about Obama's military purge:
http://www.wnd.com/2013/10/obama-gutting-military-by-purging-generals/
http://www.wnd.com/2013/10/top-generals-obama-is-purging-the-military/
http://blogdogcicle.blogspot.com/2014/01/ex-cia-jim-garrow-military-purge-has.html
Cross posted at Before It's News