TAKEAWAY: We will be covering this unusual day when two of the projects we at Garcia Media have been working with launch on the same day.  Be on the lookout for case study updates for Lebanon's An Nahar as well as India's Hindustan.
This blog will be periodically updated between now and Tuesday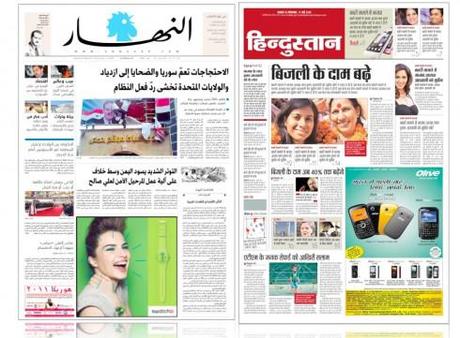 These two projects have been going through the pipeline for about six moths.
IN both cases we had to work with a non-Roman alphabet.  In both cases the newspapers involved in the rethinking are institutions in their environments, with a rich historuy, great readership and a position of leadership.  In both cases the management wanted to take the products further, not just in terms of design, but going for entire rethinking of content and how it is presented.
In both cases, the brand (logo) were worked with, maintaining the familiar but advancing to freshen them up and give them a more contemporary look and feel.
An Nahar: Lebanon's leading newspaper
Ask anyone in the Arabic world, and he will tell you that An Nahar (which means The Day) is, without a doubt, one of the most distinguished and respected Arabic-language newspapers in the world.  So I was greatly honored when its publisher Nayla Tueni called me in what was supposed to be a short visit "to take a look at the design ideas we haven and plan to implement".
Indeed, I did that, but found out that there was so much more that could be done with this giant of a newspaper.  Why go half way when one could go all the way, take a look at content and its flow, consider the possibility of new topics covered daily through supplements.
Nayla and her team accepted my suggestion and decided to put aside the minor redesign done in house and to tackle this as An Nahar project of greater magnitude.
The process began with a review of An Nahar's typography.
A new font created uniquely for An Nahar
Enter Nadine Chahine, of Linotype, based in Germany.  Nadine is one of the busiest and most talented Arab font designers in the world today.  We had the pleasure of doing some work with Nadine when redesigning Al Shabiba in Oman, where she retouched the logo.  I contacted Nadine and she was happy to join our team.
Immediately, Nadine, who is originally from Lebanon, told me "Oh, Mario, I grew up reading An Nahar. It is an institution. My dad even writes for An Nahar from time to time.  A great newspaper.  It should have a font created just for them."
Why not?
The next step was to convince Nayla and her management team that a special font and the costs involved were justified.  But this was not difficult to do, and Nayla came on board , asking Nadine and her LInotype colleagues to go to work on what became Gebran 2005,in honor of Gebran Ghassan Tueni , a third-generation journalist, who was editor and publisher of An Nahar until his assassination by a car bomb December 15, 2005.  The memory of Gebran is everywhere around the building of An Nahar, and with every person working there, especially with his daughter Nayla, now in charge of taking An Nahar to its next chapter in the life of the Lebanese people.
I will be offering more details about Gebran 2005 the font as it becomes available.  I have asked Nadine to prepare a dossier on the creation of the font.
The new front page
My first impressions of An Nahar were that photos ran too small and usually all the same size, a point that we had to emphasize in all workshops.  In addition, a tendency for very long texts to run on inside pages without any breaks or other secondary readings to help the reader.
And An Nahar had no effective navigational system, so one was introduced on the left hand side of the page.
The following simulations show the work of art director Ziad Kassis, working closely with us, and approaching many of the front pages that appeared but using the new styles. Notice that these front page simulations are done matching the exact advertising configurations of the original front page, including when the ad covers 50% of the front page.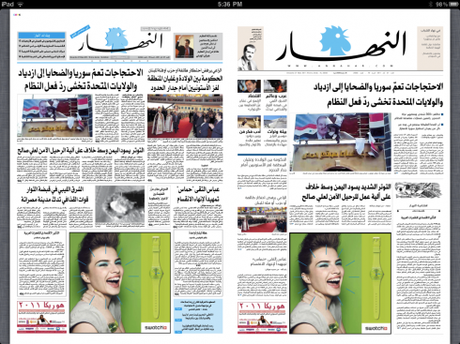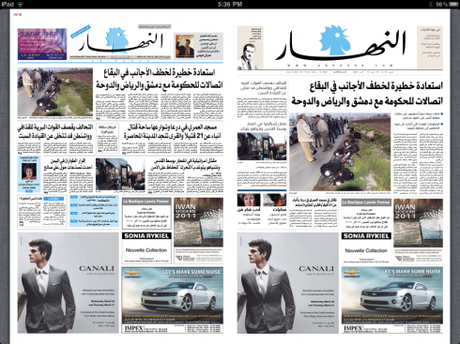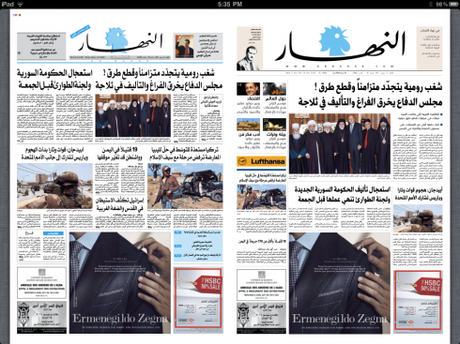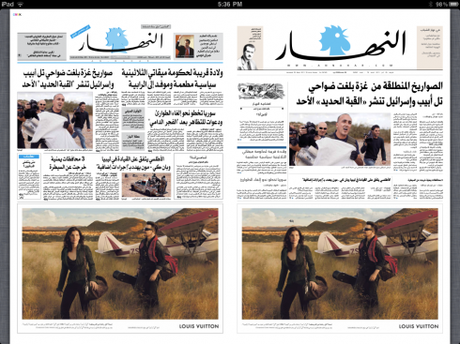 A series of other prototype pages for An Nahar follow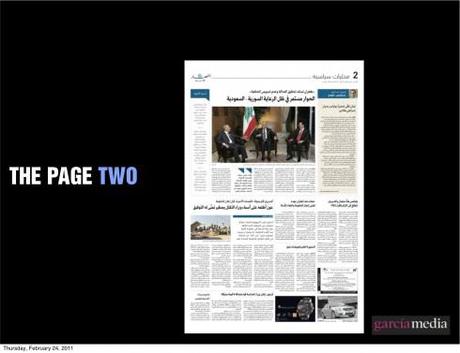 This is a Page 2 prototype: creating hierarchy not just for photos, but also for headlines, incorporating graphic elements to break up the long masses of text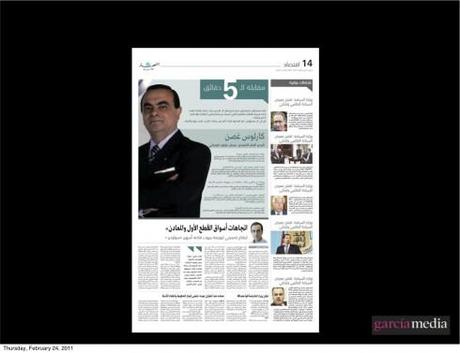 A sample business page: introducing more graphic elements for storytelling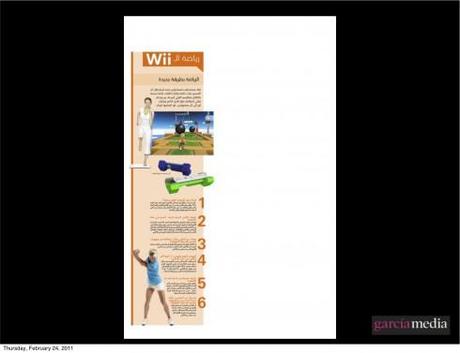 This is an example of the design we created to allow the editors to use quick reads, numbers and destination elements as part of storytelling throughout the newspaper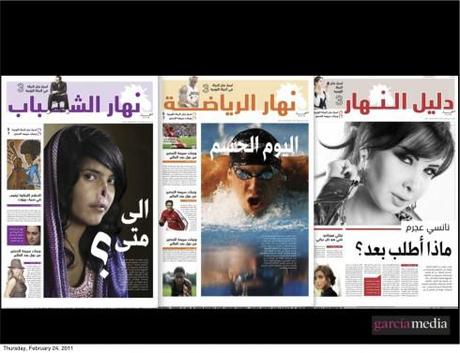 The rethinking of An Nahar introduces lifestyle topics daily through new supplements as the ones seen above

To be continued through Tuesday: stay tuned for frequent updates

TheMarioBlog post #749