Blame It on Rio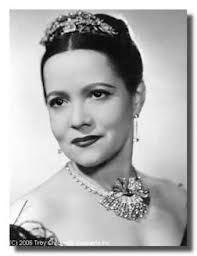 Bidu Sayao (last.fm)
They booed. The audience had actually booed. It was unheard of – absurd to say the least – yet it was true. But how could it have happened in Rio, and, most disturbingly of all, to Bidu Sayão, the operatic sweetheart of the Southern Hemisphere?
Not five months had passed since the stylish Brazilian singer's appearance at the Metropolitan Opera House had caused a minor stir, and was labeled the surprise hit of the 1936-1937 seasons. "Miss Sayão triumphed as a Manon should," wrote New York Times music critic Olin Downes of her mid-winter debut, "by manners, youth and charm, and secondly by the way in which [her] voice became the vehicle of dramatic expression."
"Any conjecture as to how Sayão's small but perfectly produced voice would fare in the great spaces of the Metropolitan [was] speedily allayed," raved Paul Jackson in Saturday Afternoons at the Old Met. "Her affinity for the French style… and a decade's experience in European houses enabled her to set foot on the Met stage with a portrayal fully formed."
Bidu had been chosen by the Met to assume the repertory of the recently retired Spanish soprano Lucrezia Bori. Within weeks of her initial engagement she was assigned the lead role of Violetta in La Traviata, followed quickly by her first Bohème. "She was an unmatched Norina, Zerlina, and Adina," continued Jackson. However, "Sayão's Violetta is a vivid creation and exceedingly well sung throughout… She turns the coloratura of the first act into a dramatic device just as Verdi intended…"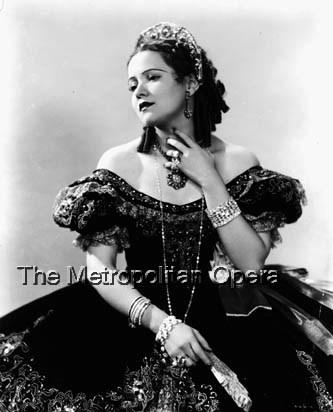 Bidu as Violetta in La Traviata (archives-metoperafamily.org)
Now, with many U.S. opera companies on hiatus until the fall, Bidu was free to enjoy the warmer waters of her tropical port city and its own extensive concert and opera-going season. Her ambitions there were modest, in the extreme: to please her many fans and admirers, as she always had, at Rio de Janeiro's Teatro Municipal.
She had lately performed in the opera Il Guarany by Gomes, and was scheduled to sing the smaller but no less showier secondary part of Micaela in Carmen, which once starred the celebrated Italian mezzo Gabriella Besanzoni, a past veteran of many a South American production of the work and a mainstay at the Municipal since 1918.
Described as "badly-behaved and impertinent" by the Met's onetime director Giulio Gatti-Casazza, the high-strung Besanzoni had lucked into a society marriage with Brazilian industrialist Henrique Lage back in 1925. This tended to keep the temperamental diva anchored to the capital, with the Teatro Municipal serving as her homeport.
Upon leaving the stage in 1939, she turned to teaching to take up her spare time. As an instructor, it was widely rumored the Roman native was a superior judge of vocal talent – one of her prize pupils would turn out to be the carioca baritone Paulo Fortes.
There was ample evidence to suggest by all this that the July 1937 performance of Carmen in Rio would be a far from routine affair, if not a fairly exciting one. What actually transpired onstage could not by any means be considered unexpected; but the passage of time, muddled individual motives, and even sketchier personal recollections have a way of blurring the finer details of how and why certain events took shape.
The indisputable facts, though, were these: unable to cope with Bidu's recent string of successes, the feisty mezzo-soprano organized a demonstration by the members of her claque to boo the little prima donna into submission, and on her home turf. Besanzoni "had been a magnificent singer," claimed Bidu, in a 1973 interview for Veja magazine, "the best Carmen I've ever seen. Although she was no longer performing, she was insanely jealous of anyone who appeared in the piece."
Besanzoni's boisterous negative campaign fizzled, however, as the entire theater soon got wind of the plot. After Micaela's moving third act solo, "Je dis que rien ne m'épouvante" ("I say that nothing here frightens me"), the audience erupted into a steady stream of applause that purportedly drowned out the noisy offenders, who proceeded to beat a hasty retreat from the peanut gallery, Madame Besanzoni among them.
Badly shaken by the incident, Bidu was overheard to have declared that she would refuse all future offers to sing in Rio de Janeiro – and, for that matter, in Brazil, too. Despite claims to the contrary, the soprano rethought her earlier position and thankfully returned to her native land on several occasions near the end of the forties, appearing in La Bohème, Roméo et Juliette, Manon, and Pelleas et Mélisande.
"In any case," Bidu explained years later to Veja, "this was a minor incident, with little importance that I recall without a trace of anger…"
She gave her last complete performance at the Teatro Municipal in 1950, as Mimì in La Bohème; but after that painful Carmen she would most heartily agree to become a full-fledged member of the Metropolitan Opera's roster of artists, the only one from South America.
Aside from the poor reception in Rio, there were other, more valid justifications for her decision to depart for "friendlier" Northern corridors, one of which was to be closer to Metropolitan Opera baritone Giuseppe Danise, the long-awaited love of her life; but the main reason was the volatile political situation of pre-World War II Europe.
For Bidu, this did not necessarily translate into a moratorium on her stepping onto Brazil's stages, but it did pose a serious threat to anyone bound for European opera houses, regardless of national origin. As it was, the escalating global conflict had put a severe damper on most foreign classical pursuits, in essence restricting the coloratura and other paid professionals to the safer venues of North America for the duration of the conflict. Still, the sad truth remained that Bidu Sayão was hurt, and it showed in her avoidance of Brazil as a routine layover spot.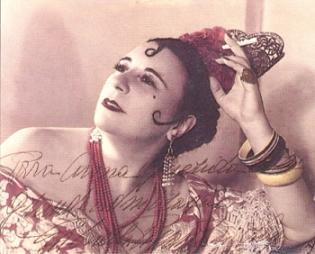 Gabriella Besanzoni as Carmen (operasiempre.es)
As for Besanzoni, she would stay noticeably closed-mouth on the subject of her actions on that particular evening. We can only speculate, at this point, as to her convoluted reasoning behind them.
They had a lot to do with the perceptive singer's suspicion of an unofficial snub by the Metropolitan Opera during the 1919-1920 seasons, a period in which she was asked to take on many of the same roles as the house's resident workhorse, the stalwart Austro-Hungarian artist Margarete Matzenauer.
According to various accounts, Besanzoni became convinced that her Teutonic rival had somehow bribed the claque to despoil her every Met appearance. Curiously, reviews from that time seem to corroborate this notion: there is a marked indication that an organized and clearly exaggerated favoritism for Matzenauer was at the heart of the anti-Besanzoni faction. And, in the Italian's own blunt assessment of events, "the 'German' did everything in her power to prevent me from being hired by the Metropolitan."
Her past ill treatment in the Manhattan press, plus the unfavorable reaction of Met Opera audiences, might well have gone a long way toward fanning the mezzo's future flames of envy with regard to Bidu's growing popularity there.
We may never know for certain, but Besanzoni's overly paranoid sensibilities do serve to explain some of the later green-eyed behavior attributed to her, and unreasonably extended to the tiny Brazilian warbler.
(End of Part Four)
Copyright © 2013 by Josmar F. Lopes