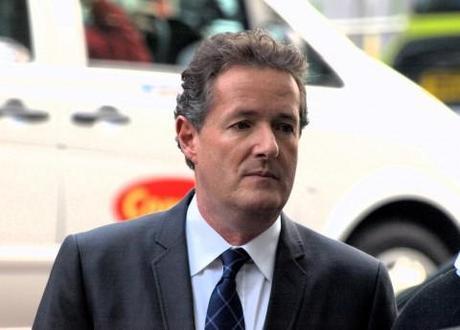 Piers Morgan
Piers Morgan is an England cricket fan. We know that, because he tells us so. Even though he lives and works in New York, he likes to remind us – Brits and Yanks alike – that he is a true patriot and an English eccentric. His voice, like his face, carries a hint of plum. He sweats through an immaculately-tailored suit and tie. He watches the Olympics while drinking Earl Grey from a Union Jack teapot. He berates our Olympians for not singing the national anthem.
We know he's an English cricket fan because he's friends with all the England players. We know that because he talks to them on Twitter. He 'banters' publicly, full of matey praise here and irreverent digs there. It doesn't matter if some of them think he's an insufferable prick. They can't really air that kind of view in public (witness the joyous social media celebration of the fake Bradley Wiggins reply, an exercise in wish fulfilment if ever there was one).
But more than that, Piers Morgan is a Piers Morgan fan.
But more than that, Piers Morgan is a Piers Morgan fan. No revelation there. That is why Twitter suits him so well. If you are nursing a massive ego, if – beneath all the irony, the self-parody, the charming shtick about being able to take the jibes and laugh at yourself – you really do believe you are broadcasting from somewhere near the center of the known universe, then Twitter can only feed this. You reach such a diverse cross-section of the first world – fans and haters, trolls and idols from every country – that it really does seem that you can air your halitosis on every living being on the planet. What a tremendous power trip to add to your ego trip.
And so he connects to sportsmen with almost the same volume that he collects followers. He knows the power of sport as mass communicator, a great leveller for the faux-modest. He is not the most athletic of figures himself, unless you count Belarusian female shot-putters. But he can collect his fair share of trophies – living, tweeting sporting trophies. In cricket terms, he is only really interested in the big fish: the real 'box office', in his own terminology. Andrew Flintoff. Shane Warne. Kevin Pietersen.
PM's bromance with KP has been acted out for all to see. Lord knows if they manage to hang out much in person, but what does it matter? They're friends and everyone on Twitter knows it. First they shared one of Piers' undignified public 'follower wars', like that which Piers had previously engineered with Alan Sugar. Before long KP had agreed to play with Piers in a charity match, apparently in order to meet Simon Cowell ("a man who, to Pietersen, represented contemporary power and achievement", in the words of respected cricket blogger The Old Batsman).
It's easy to see why both are flattered by the attention: one of them longing to be liked and admired, the other to be richer and more famous. And it's equally clear that Piers' love of the Pietersen factor, and by extension his love of himself, rapidly outpaced his love of the England cricket team. In the last few days, as Pietersen found himself out in the cold, Piers has come out to bat – including a breathless tirade on BBC radio during a show presented by ex-England players Tufnell and Vaughan. It remains to be seen whether this has done his cause more harm than good, but the jury is still out.
He doesn't give a damn about the England team, he loves showbusiness.
Huge, hugely talented egos are commonplace in top-level sport and they need to be properly managed. No doubt mistakes have been made on all sides: the ECB have been inflexible, aired matters in public, and have undoubtedly picked a side. Dressing rooms can be cliquey places and no doubt Pietersen's team-mates have treated a perceived lack of respect in kind. But in picking the battles he has, Piers Morgan has shown his true colours. He doesn't give a damn about the England team, he loves showbusiness. He wants to be associated with an England team who are #1 in the world. He loves a batsman who will 'clear bars'. He rates a batsman's worth by their value in millions at the lucrative box-office of the Indian Premier League.
Piers' theory is that his team-mates are jealous. But his analysis of the IPL position ignores basic truths that committed followers of English cricket know: that England are top of the 20/20 rankings even without Pietersen; that his apparent arch-enemy Stuart Broad also has an IPL contract; that when it comes to Tests, England's most consistent performers have been the likes of Cook, Trott, Prior and Anderson. Pietersen was by no means the most consistent performer in the IPL, either (recent marvels aside): he was valued above all because he was 'box office', and Piers – like the TV bosses who fund the IPL – speaks that language.
No doubt this has been the cause of some resentment. But the IPL ignores English cricketers generally – from a combination of distrust of their game in the subcontinent (fair enough) and the very fact which led to the Pietersen row, namely that they are contractually obliged to put England first. This is to avoid being held to ransom by players whose financial interests outweigh what their country can offer, such as Chris Gayle. It also means they are incentivised and rewarded in making England their priority.
Piers Morgan's blustering has missed these nuances. In his mind, unsurprisingly, it is all about giving the star what he wants. In making this point, Morgan has slagged off the popular England captain Andrew Strauss and successful coach Andy Flower. He has poured scorn on England stalwarts like Tim Bresnan, Graeme Swann and Stuart Broad. He has belittled promising new batsman Jonny Bairstow. While protesting on the radio about KP being innocent until proven guilty, half the team stand accused by Morgan's innuendo. He has made it clear where his loyalties lie.
Piers Morgan's blustering has missed these nuances.
The seeds to this dressing-room spat were sown long ago, in Pietersen's dispute with the ECB over availability. But Morgan has, unsurprisingly, debated the point as if it began and ended with texts and Twitter – because of course the world revolves around social media. Correction: Twitter is the means by which the world revolves around Piers Morgan. Friend to the stars. Flag-waver for the Queen. The patriotic conscience of Team GB. The pinguid face of tabloid telly. And yet underneath all this there lies a single, pertinent question: What the hell has any of this got to do with him?