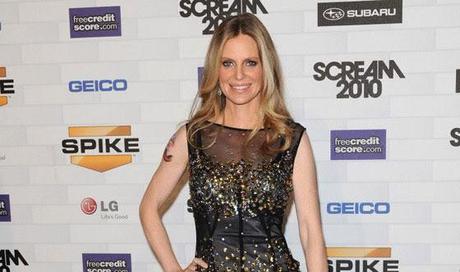 We here at True Blood Fan Source have undertaken the initiative to raise $5000 for the Amanda Foundation in honor of Kristin Bauer van Straten's (Pamela Sywnford de Beaufort) birthday.  While it is an excellent tribute to Kristin and what she does on a daily basis, there's one more thing fans can do make her birthday just a little more special.
Twitter is a social network where people can keep up to date with friends, organizations, and celebrities. It's also a tool that can help create awareness about various issues and open people's minds to things they might have not considered before. Kristin has managed to harness this aspect of social networking and has used it to make a tremendous difference in the lives of others, especially animals. In addition, Twitter has been a way that fans all over the world have been able to communicate with Kristin about everything from True Blood to the best set of eco-friendly luggage available on the internet.  They've also used it to bring causes to her attention, like the plight of Tony the Tiger for example.  The truck stop tiger is now closer to freedom partly because Kristin lent her voice to the cause.
As of the writing of this post, Kristin has just under 71,000 followers on Twitter.  In honor of her birthday however, we would like to get that number up to 100,000 by her b-day, November 26th. It is a challenge, but one that we are sure that can be met! Not only would it be a nice birthday present for Kristin and a way to show your support for her, but by following her, you will learn something.
Follow her now on Twitter here and if you already are following @BauervanStraten, be sure to hit the tweet buttons at the top or bottom of this post to spread the word!
And if you're feeling extra giving, you can join our donation campaign for the Amanda Foundation by hitting the donation button below. Details on our giveaway are here.
Image Credit: Bauer-Griffin