Law & Order: SVU. Linus Roache, aka ADA Michael Cutter of Law & Order, is set to reprise his role in the 13th season premiere of the NBC drama. Cutter is now Bureau Chief of the DA's office,thus supervising the Special Victims Unit cases. New SVU showrunner, Warren Leight says about the character: "If Cutter was a bit of a hot head in the past, the passage of time and some added responsibility in his new job has made him more mature, and perhaps a bit more jaded."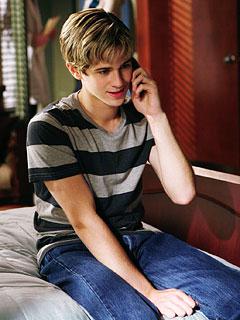 Gossip Girl. Connor Paolo, who played Serena's brother, Eric, confirms he will not return to The CW's drama, who just won the Choice TV Drama award at the TCA on Sunday. Within the show, his exit is explained by Eric's going to college and not returning for holidays. Connor Paolo is now a series regular in the new ABC drama Revenge, that will premiere September 21st.
House. Series creator David Shore spills to TVLine that the show's 8th season will start a year after the events of last May's finale. "The advantage of going forward a year is that everything's changed, and changed dramatically", Shore reveals. House is in prison, serving a sentence for driving his car into Cuddy's house; there's a new Dean of Medicine, and House's diagnostics team has a couple of new members.
Eureka. Syfy announced that the show's 6th season has been cancelled. The previously-ordered 13-episode fifth season will now be the show's last. "After painstaking consideration, we have had to make the difficult business decision to not order a season six of Eureka," says Syfy in a stetement. "But Eureka is not over yet. There is a new holiday episode this December and 12 stellar episodes set to debut next year, marking its fifth season and six memorable years on Syfy. The 2012 episodes are some of the best we've seen, and will bring this great series to a satisfying end. We are very grateful to Bruce Miller and Jaime Paglia, their team of incredible writers, and an amazing cast and crew who have consistently delivered a series we continue to be very proud of. We thank the fans for their support of this show and know they will enjoy its final season in 2012."
NCIS. CBS announced that the show's 9th season premiere, airing on September 20th, will bring actor Scott Wolf as the potentially recurring character of FBI Agent Casey Stratton, a role that promises some surprises. The premiere will pick up four months later from last season's finale. Executive producer Gary Glasberg says, "We're going to start the show in real time, in September, look back all the way to May, and then jump through the mission Tony [DiNozzo] was on."