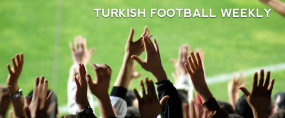 One of the pundits is in a land of sunshine for work reasons, while the other is out shoveling snow for no reason.  Also, some guy from Belgium looks forward to more European games, one of which will be relatively up the road.  This week on Turkish Football Weekly:
Ata and Jeremy review week 22 results of the Turkish Super League.  Galatasaray now has a cushion as it pertains to the standings after this past weekend.  The week 23 schedule is then given a rundown.  While the Fenerbahce-Galatasaray match this coming weekend will make the headlines, other matches that should tickle the fancy are discussed in the rundown.
Kaan Bayazit joins Ata to discuss the news of the week.  News this week features discussion on Besiktas' opponent for the UEFA Europa League round of 16, and former Galatasaray coach Cesare Prandelli filing a lawsuit in CAS for the money he's owed after his contract was terminated.
Subscribe to the show via iTunes.
Subscribe to the show via Stitcher Radio.
Subscribe to the show via PlayerFM.
Follow the panelists on Twitter: @ata_dizdar (Ata), @asimbey (Jeremy), @razzerian (Kaan)