A deliciously different turkey meat loaf not made the way you would expect.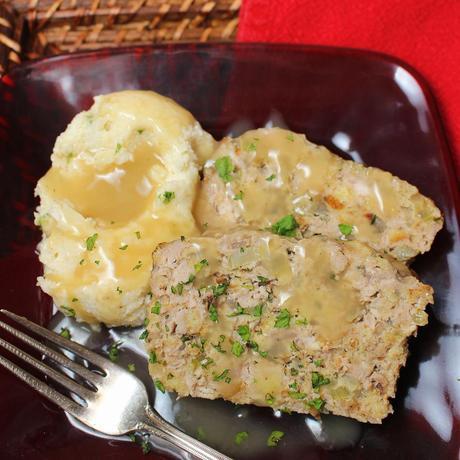 Turkey Meatloaf
by Sue Lau | Palatable Pastime
Most of the usual options for turkey meatloaf that I have seen tend to just switch out the beef, or beef and pork mixture for turkey instead, with no other really significant changes. So outside of the obvious minimum safe cooking temperature on that, I am not sure there really needs to be another recipe written on it.
For this recipe, however, it is written with turkey in mind. Instead of the usual breadcrumbs or crushed crackers I have opted to use my CORNBREAD STUFFING MIX, which I keep in hand in the pantry for a myriad of uses from making STUFFING, to topping MUSHROOMS, to breading for CHICKEN, among other things. From there, the fillings and binder only serve to enhance the overall turkey experience, from the seasonings, to the vegetables typical of a turkey stuffing. Topped with warm turkey gravy, these slices of heaven are moist, tender, and delicious. Perfect for Sunday dinner, or anytime.
~Sue
Turkey Meatloaf
Servings: 4-6
Time: 1hr 30mins
Difficulty: easy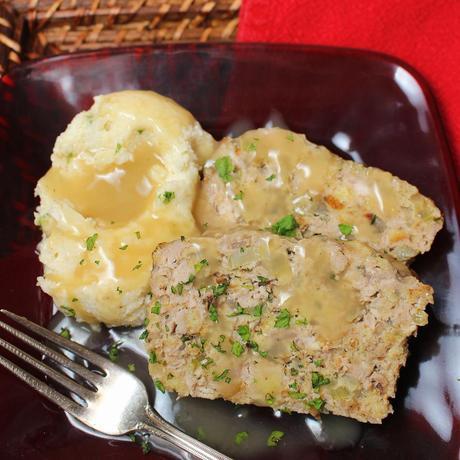 Ingredients:
1-1/2 pounds lean ground turkey thigh or breast (I grind up my own)
1 cup diced celery
1 cup chopped onion
1 tablespoon olive oil
1-1/2 teaspoons dried sage
1 teaspoon dried parsley
1/2 teaspoon dried thyme
1/2 teaspoon salt
1/4 teaspoon black pepper
1 teaspoon minced garlic
1 cup crushed cornbread stuffing mix (use my recipe)
2 tablespoons warm milk
1 large organic egg, lightly beaten
Method:
Preheat oven to 350ºF.
In a saute pan, cook celery and onion in oil  with seasonings and garlic until the vegetables are soft.
Toss the cornbread stuffing mix crumbs with milk.
In  a large mixing bowl, thoroughly mix together the ground  turkey, cooked vegetable mixture, soaked cornbread stuffing mix crumbs, and beaten egg.
Place mixture in a greased loaf pan and cover with foil or a lid and bake in the preheated oven for one hour.
Remove foil; or lid and bake another 15 minutes.
Allow to stand 10 minutes before slicing and serving.
Serve with turkey gravy if desired.
From the kitchen of Palatablepastime.com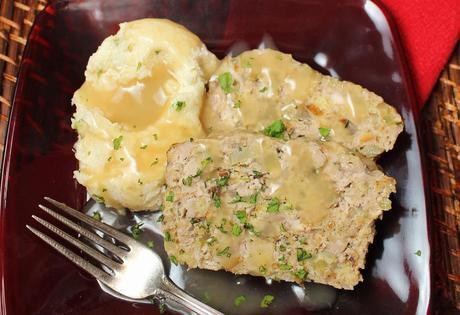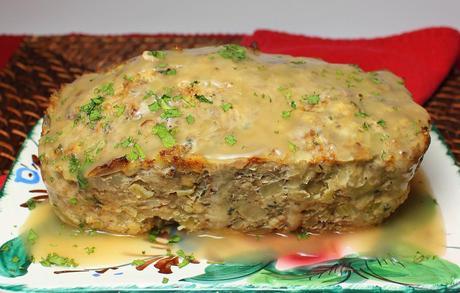 You might also like:
Brined Oven Roasted Turkey Breast
Bacon-Cheddar Turkey Burger with Cranberry Chipotle Mayo
Can't Find a Recipe? | Help
Recipe Index A-M | Recipe Index N-Z | Home