This economical yet delicious soup utilizes leftover turkey stuffing to make perfect dumplings.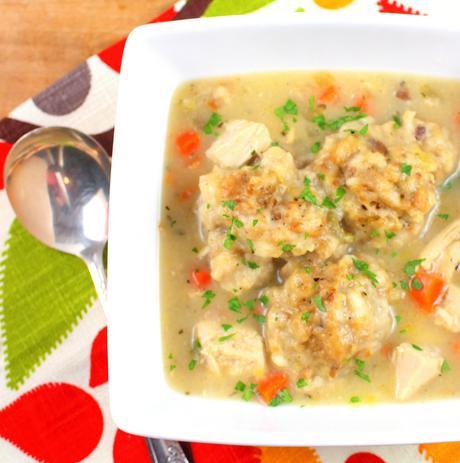 Turkey and Dumpling Soup
by Sue Lau | Palatable Pastime
Saving money at mealtime is something I enjoy and I doubt that anyone would disagree. Sure, we all like to splurge on the nicer things, but it is always nice to be able to save a few dollars here and there.
And when asked to come up with budget friendly recipe ideas, I already knew with Thanksgiving coming up I would be full of ideas. Pound for pound, turkey is about the biggest value for meat in the market, especially with holiday sales.
I like to make my turkey dollar go a very  long way, often buying an extra bird to cut up  into a breast with other pieces separated out. I can grind the meat off the thighs for use in recipes such as these:
Bacon Cheddar Turkey Burgers with Cranberry Chipotle Mayo
The breast I can make several ways:
Brined Mesquite Grilled Turkey Breast
Brined Oven Roasted Turkey breast
Things like wings and drumsticks hit the smoker, and afterwards I freeze them and will use them later to season recipes such as these:
Aren't these smoked drummies and wings absolutely scrummy?
And I shouldn't have to say that I got my whole turkey for what I could have paid for just those two smoked wings at the market. ;)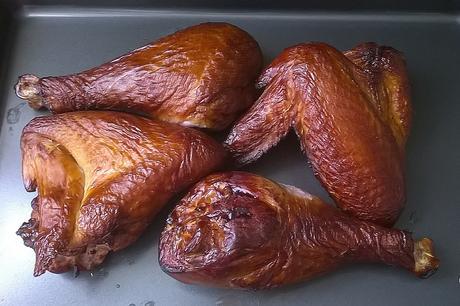 The bones, of course, I break apart and toss them in a stockpot with mirepoix (carrots, celery and onions) and bay leaves to cook all the goodness out of the bones, reduce the liquid to a manageable amount, and freeze it for later.
And after every Thanksgiving dinner, there is usually leftover stuffing in every single home, And  this one might be the hardest one to use up, unless you want a turkey plate repeat, or putting it in a turkey sandwich, or one of those leftover turkey casseroles. Last year, I had tried someone's recipe for using it in a dumpling soup. It was a big Pinterest fail. The dumplings simply dissolved in the broth. But since then I thought about where their recipe went wrong and fixed all that. My recipe here does work as it has a good binder. And the dumplings are better and more flavorful than I could ever have hoped for, so much that you will want to do this on purpose (even when you have no Thanksgiving leftovers)
So you might want to stock up on these recipes:
Both of those I make often, and will use all sorts of leftover stale bread or corn bread, as these dry to being shelf stable and keep a good long time. It is all part and parcel of being frugal. You know how it is.
But I hope this recipe is one you enjoy. And be sure to check out the other budget friendly recipes from SSM bloggers. The more we save, the more we can spend on other, perhaps more essential things.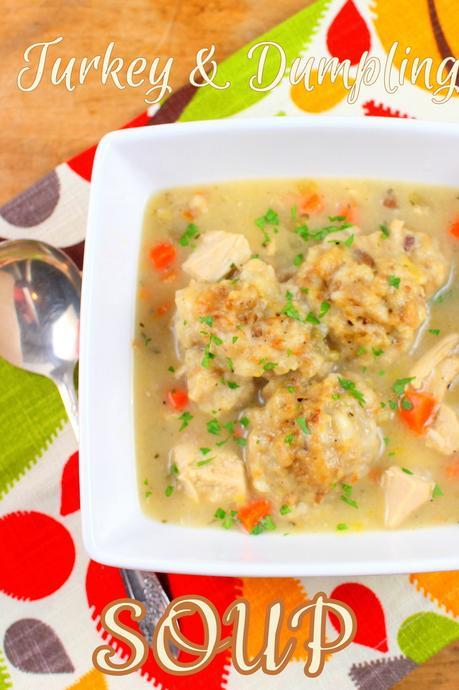 Turkey and Dumpling Soup
Servings: 8-10
Time: 1hr
Difficulty: easy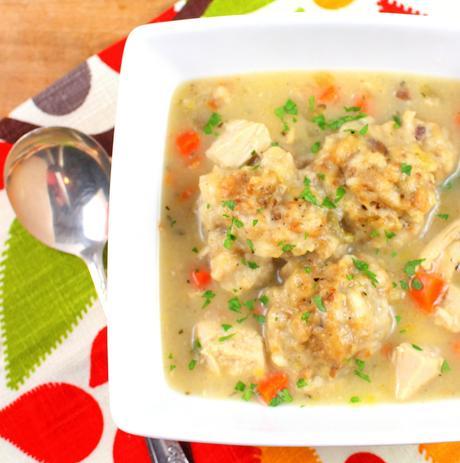 Prep: 15 minutes
Cook: 45 minutes
Ingredients:
1 large onion, chopped
2 medium carrots, diced
2 ribs celery, diced
 1 teaspoon chopped garlic
1-2 tablespoons olive oil
1-2 bay leaves
1/2 teaspoon dried thyme leaves
1/2 teaspoon rubbed sage
1/2 teaspoon dry rosemary
salt and black pepper to taste
2 quarts turkey broth (can include some leftover turkey gravy- I added about one cup)
1 pound chopped cooked leftover turkey
1/2 cup cold milk
3 tablespoons cornstarch
3 cups leftover turkey stuffing, chopped (to make sure it separates)
1 1/2 cups Bisquick (or homemade baking mix)
3/4 cup milk
Method:
Heat oil in a large skillet and saute the onion, carrots, celery and garlic until onions are translucent.
Stir in herbs and seasonings (if you don't have the separate herbs use 1.5 tsp of poultry seasoning), cooking about 20-30 seconds until aromatic.
Add the sauteed vegetables to a soup pot along with chopped turkey, turkey broth (I added all my leftover gravy into this); bring to a boil, then reduce heat and simmer for 25 minutes.
Mix cornstarch into the cold milk to make a slurry, then add to soup, heating until it boils, stirring to thicken, about one minute.
Mix the chopped (I chop it so it wasn't in uneven lumps) stuffing with the bisquick and milk.
Drop dumpling batter into hot soup, then cover and simmer for ten minutes to let the dumplings cook.
Serve soup hot, with dumplings on top.
From the kitchen of palatablepastime.com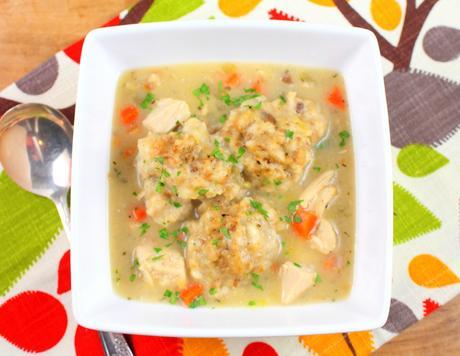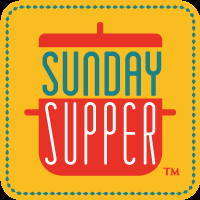 Budget Friendly Meals
This week is about budget friendly  meals!
How do you stay economical and frugal in the kitchen?
As part of the Sunday Supper Movement, I and a host of other food bloggers are pleased to present to you some of our favorite recipes for saving money while still putting a quality meal on our tables.
Be sure to check these recipes out below, and be sure to pin your favorites! Sunday Supper bloggers love being pinned!
Save-Your-Pennies Soups:
Bean and Bacon Soup by Hezzi-D's Books and Cooks
Mexican Turkey Bean Soup by What Smells So Good?
Pasta e Fagioli by The Food Hunter's Guide to Cuisine
Turkey and Dumpling Soup by Palatable Pastime
Vegan Broccoli Cheese Soup by Pancake Warriors
Budget-Savvy Bread and Salads:
Mom's Buttermilk Biscuits by Grumpy's Honeybunch
Smoked Salmon Salad by Brunch with Joy
Turkey Salad by Food Done Light
Money-Saving Mains:
Apple Burgers by Jane's Adventures in Dinner
Authentic Havana Black Bean Soup by Lifestyle Food Artistry
Black Bean and Bell Pepper Quesadillas by My San Francisco Kitchen
Cajun Blackened Chicken Thighs by Feeding Big
Chicken Enchilada Casserole by Cosmopolitan Cornbread
Chicken Enchiladas by The Freshman Cook
Chicken Piccata by Monica's Table
Chicken Tetrazzini by Renee's Kitchen Adventures
Chimichurri Chicken Thighs by Life Tastes Good
Easy Cheesy Egg Breakfast Bake with Potatoes and Bacon by From Gate to Plate [or breakfast]
Easy Crockpot Spaghetti Sauce by Fantastical Sharing of Recipes
Egyptian Rice and Lentils by Wholistic Woman
French Onion Soup Twice Baked Potato by Sew You Think You Can Cook
Gnocchi with Fennel and Pork by Caroline's Cooking
Italian Baked Chicken by A Day in the Life on the Farm
Lasagna Stuffed Acorn Squash by Cupcakes & Kale Chips
One-Pot Creamy Chicken and Noodles by A Kitchen Hoor's Adventures
One-Pot Creamy Lentils and Kale by The Wimpy Vegetarian
Orzo with Leftover Turkey and Sweet Potatoes by Cooking Chat
Turkey Sausage and Pasta by Cindy's Recipes and Writings
Twice Baked Sweet Potato Bar by Momma's Meals
Yakisoba (Japanese Stir Fried Noodles) by Curious Cuisinere
Don't-break-the-bank Desserts:
Apple Pecan Bread Pudding by That Skinny Chick Can Bake
Marshmallow Popcorn Balls by Pies and Plots
Slow Cooker Apple Gingerbread Crumble by The Crumby Cupcake
Deal-worthy Drinks:
Hot Spiced Citrus Cider by Party Food and Entertaining
And more saving suggestions from the Sunday Supper Movement:
Budget-Friendly Meal Ideas for #SundaySupper

Join the #SundaySupper conversation on twitter on Sunday!
We tweet throughout the day and share recipes from all over the world. Our weekly chat starts at 7 pm ET. Follow the #SundaySupper hashtag and remember to include it in your tweets to join in the chat. To get more great Sunday Supper Recipes, visit our website or check out our
Pinterest board
.
Would you like to join the Sunday Supper Movement? It's easy. You can sign up by clicking here: Sunday Supper Movement.
You might also like:
Old-Fashioned Bread and Celery Dressing or Stuffing
Palatable Pantry's Pumpkin Pie Spice
Can't Find a Recipe? | Help
Recipe Index A-M | Recipe Index N-Z | Home