Don't Stop Living - Jonny Blair - a lifestyle of travel
One of the joys of always being on the road is the sheer quantity of people you meet. You'll literally have thousands of new people in your life coming and going as you move from city to village, jungle to desert and ship to bus. But on that journey, some of them will become good friends, some maybe even best friends or partners. I met my best mate while at University and my girlfriend in Antarctica. Some of the people you meet you will have shared great times with and want to see again. Some of these people you will never see again, through no fault of yours or theirs. It's just the way life is.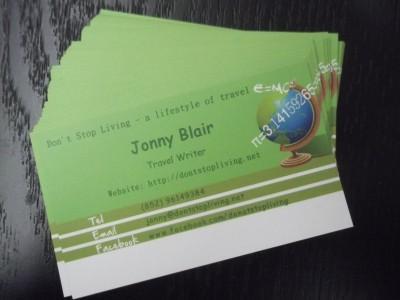 Tuesday's Travel Essentials: Business Cards and Keeping in Touch
If you've met me on my travels and enjoyed some good times, got in some photos together, had a drink seen some sights, missed a bus etc. you might have remembered one thing from me – I almost always ask for your contact details and do my best to stay in touch. These days an e-mail address and a Facebook add are the best ways to keep in touch. As Don't Stop Living has become more popular I got business cards made – I also had business cards on my 2007 backpacking jaunt Toronto to Moscow. Here is my advice on swapping contact details and keeping touch: – Swap email addresses – Get business cards made (much faster, easier and more professional – plus cheap enough – I got 300 for under $6 US) – Connect on Facebook – Mention your travel buddies on your blog – Email a few weeks after the trip you met them on to touch base (Facebook also ok for this) – Send them photos they were in – Invite them to join you on a future trip – Tell them you'd love to visit their town someday – Any way to keep touch is good! – Don't burn your bridges! That's it for now as I try to keep touch and meet up with a few mates in Hong Kong as I prepare for a trip to Beijing then onwards to North Korea before backpacking the Middle East. Keep touch with me in these ways: – E-mail me – jonny (at) dontstopliving (dot) net – Like Don't Stop Living on Facebook – Subscribe to Don't Stop Living videos on YouTube – StumbleUpon Don't Stop Living – Follow Don't Stop Living on Twitter – Get me on GooglePlus – My homepage says where I am currently and heading next – Don't Stop Living homepage – I'm on Blogdash: http://www.blogdash.com/full_profile/?claim_code=ab0a1b53e5518e343f0f1187e4162f85 [contact-form-7]
Original article: Tuesday's Travel Essentials: Business Cards and Swapping Contact Details
©2013 Don't Stop Living. All Rights Reserved.