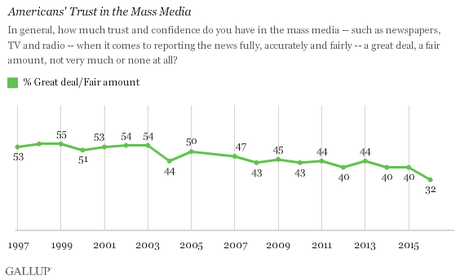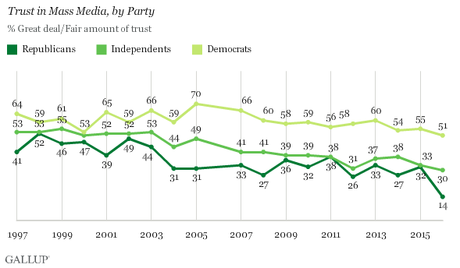 This comes as no surprise to me, considering the poor job the media has done of covering the impending presidential election. Only 32%of Americans say they have a great deal or fair amount of trust in the mainstream media. That's lower than it has ever been (since Gallup began polling on this question in 1972) -- and 8 points lower than the previous low in 2014 and 2015. Back in 1972, about 68% of the public trusted the mainstream media -- 36 points higher than the current trust level.
There is a significant difference by party in the trust level of the media. Democrats are the most trusting with 51%, while the trust level is only 30% among Independents and 14% among Republicans. However, as the bottom chart shows, the trust levels for all three groups are currently lower than at any point in the past.
These charts are from a recent Gallup Poll -- done between September 7th and 11th of a random national sample of 1,020 adults, and has a 4 point margin of error.