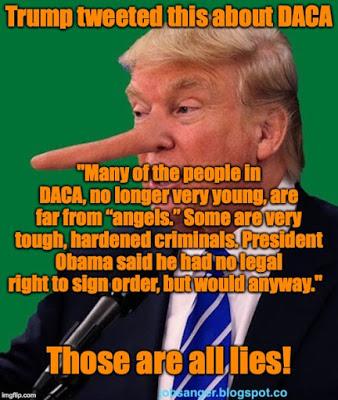 We know Donald Trump is a liar. Since taking office, he has lied nearly 14,000 times. And he seems to be getting even more accomplished as a liar.
On Tuesday, he tweeted about DACA -- and in that one short tweet, he lied three times.
He said that President Obama had said he knew he had no legal right to sign the executive order creating DACA, but did it anyway. That is not true. President Obama never said that -- or anything even close to that.
He said that many of the people in the DACA program were no longer young. That is also not true. About 66% of the Dreamers in the DACA program are 25 or younger. And 90% are 30 or younger.
He said some of the Dreamers in DACA were hardened criminals. Also not true. You can't get into the DACA program if you've committed a felony (or several misdemeanors) -- and anyone in the program who commits a crime will be expelled from it.
Here are some charts showing Trump's lies about DACA.