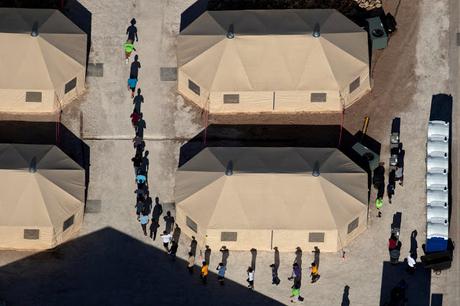 (Photo of children in tents in Tornillo, Texas by Mike Blake/Reuters is from New York Times.)
The Trump administration doesn't want to talk about their treatment of immigrant children anymore. That's because they are still incarcerating over 13,000 children -- and most of them did NOT enter the country illegally, but turned themselves in at the border seeking asylum (as is the proper way). It gets worse. They are now moving thousands out of semi-decent housing to tents in the Texas desert under cover of night. This is shameful, and it must stop!
Here is just part of an article on this by Caitlin Dickerson in The New York Times:


In shelters from Kansas to New York, hundreds of migrant children have been roused in the middle of the night in recent weeks and loaded onto buses with backpacks and snacks for a cross-country journey to their new home: a barren tent city on a sprawling patch of desert in West Texas.

Until now, most undocumented children being held by federal immigration authorities had been housed in private foster homes or shelters, sleeping two or three to a room. They received formal schooling and regular visits with legal representatives assigned to their immigration cases.

But in the rows of sand-colored tents in Tornillo, Tex., children in groups of 20, separated by gender, sleep lined up in bunks. There is no school: The children are given workbooks that they have no obligation to complete. Access to legal services is limited.

These midnight voyages are playing out across the country, as the federal government struggles to find room for more than 13,000 detained migrant children — the largest population ever — whose numbers have increased more than fivefold since last year.

The average length of time that migrant children spend in custody has nearly doubled over the same period, from 34 days to 59, according to the Department of Health and Human Services, which oversees their care.

To deal with the surging shelter populations, which have hovered near 90 percent of capacity since May, a mass reshuffling is underway and shows no signs of slowing. Hundreds of children are being shipped from shelters to West Texas each week, totaling more than 1,600 so far.

The camp in Tornillo operates like a small, pop-up city, about 35 miles southeast of El Paso on the Mexico border, complete with portable toilets. Air-conditioned tents that vary in size are used for housing, recreation and medical care. Originally opened in June for 30 days with a capacity of 400, it expanded in September to be able to house 3,800, and is now expected to remain open at least through the end of the year. . . .

The roughly 100 shelters that have, until now, been the main location for housing detained migrant children are licensed and monitored by state child welfare authorities, who impose requirements on safety and education as well as staff hiring and training.

The tent city in Tornillo, on the other hand, is unregulated, except for guidelines created by the Department of Health and Human Services. For example, schooling is not required there, as it is in regular migrant children shelters. . . .

The longer that children remain in custody, the more likely they are to become anxious or depressed, which can lead to violent outbursts or escape attempts, according to shelter workers and reports that have emerged from the system in recent months.

Advocates said those concerns are heightened at a larger facility like Tornillo, where signs that a child is struggling are more likely to be overlooked, because of its size. They added that moving children to the tent city without providing enough time to prepare them emotionally or to say goodbye to friends could compound trauma that many are already struggling with.