A recent survey by Military Times of active-duty troops, reservists and members of the National Guard show them in an anti-establishment mood, with capitalist businessman Donald Trump and Bernie Sanders, an avowed socialist, being their first and second presidential choices. Although the poll is not a scientific survey of military voting preferences, it does show that the messages of outsider candidates are resonating with active military service members.
Leo Shane III and George R. Altman report for the Military Times (MT), March 14, 2016, that the MT subscribers survey was conducted on March 9-14, 2016. About 64% of the 931 respondents identified themselves as enlisted personnel; 36% identified as officers.
Here are the results:
(1) Trump was the most popular candidate, with 27% saying they would back him if the election were held tomorrow. Sanders came in second at 22%. This suggests that military personnel have not been dissuaded by political rivals who contend Trump and Sanders have weak foreign policy credentials and don't have recognized experts as national security advisers.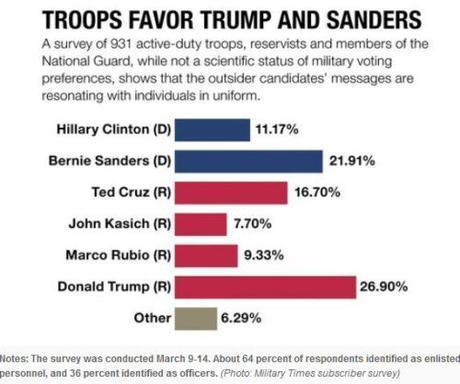 (2) Marco Rubio, who has made national security issues one of the centerpieces of his campaign, was nearly last in the Military Times survey, with only about 9% of support.
(3) Ted Cruz had 17% support; John Kasich (8%); a potential third-party candidate (6%).
(4) Democratic front runner Hillary Clinton received only a little more than 11%.
(5) Among officers, Trump still led the field but by a much smaller margin with 21%. Cruz got 18%; Sanders 16%; and Clinton 15%.
(6) In the poll, nearly half of the service members surveyed said they were unhappy with the discussion of national security issues in the presidential race so far. Fewer than 5% were "very satisfied" with how the topic has been broached.
(7) Almost a third of those surveyed do not affiliate with either the Republican or Democratic parties. Sanders was more popular than Trump among that group, but one in seven of those individuals indicated they plan on backing a third-party candidate.
(8) Although Trump is the top choice of active military service members, he also appears to be the most polarizing of all the candidates. In a comments section of hte poll, several dozen respondents called Trump dangerous for the military and the country. Three individuals polled said they'd leave the service if he becomes commander-in-chief.
By branches of service, the Army and Marine Corps favor Trump, while the Navy and Air Force favor Sanders. Here are the poll results by branches of service:
Army:

Trump (30.95%)

;

Sanders (17.26%)

; Cruz (16.07%); Hillary (12.5%); Rubio (9.82%); Kasich (8.93%).
Navy:

Sanders (29.25%)

;

Trump (23.58%)

; Cruz (13.21%); Hillary (12.74%); Rubio (8.02%); Kasich (8.02%).
Marine Corps:

Trump (30.7%)

; Cruz (15.79%);

Sanders (15.79%)

; Rubio (11.4%); Kasich (7.59%); Hillary (7.02%).
Air Force:

Sanders (24.71%)

;

Trump (22.35%)

; Cruz (21.18%); Hillary (9.8%); Rubio (8.63%); Kasich (5.88%).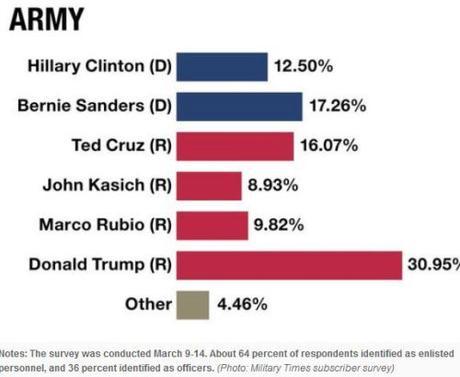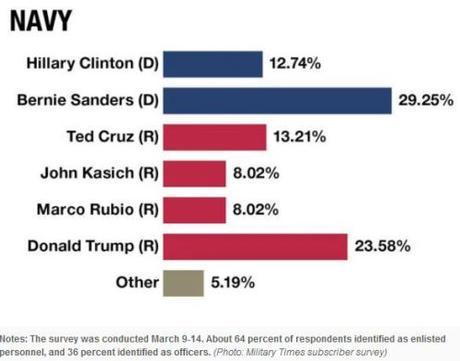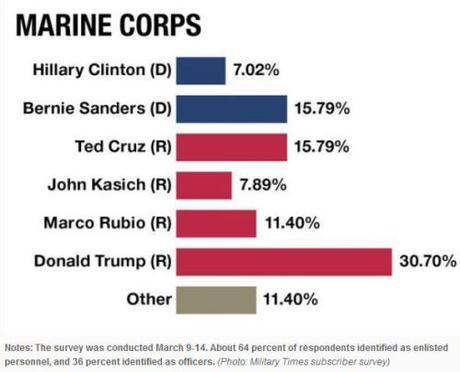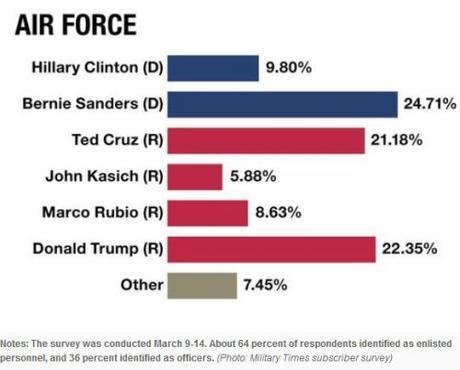 ~Eowyn