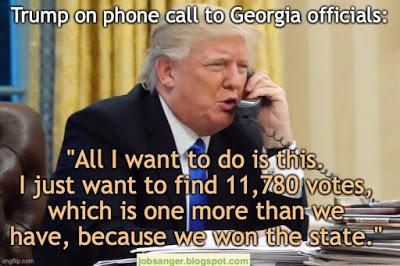 Last Saturday, Donald Trump called the Georgia Secretary of State. It was the 19th time Trump had called him since the election, and this time he got through.In the call, Trump pleaded, cajoled, and demanded that the Georgia official find enough votes to make sure he could win the state, even though there have been three recounts in Georgia and the vote has already been certified.
The call lasted about an hour, and was shocking to say the least. It was probably also criminal -- marking the first time any president has tried to illegally change votes to keep himself in power.
You can go here to read the full transcript of the call, and I suggest you do so. It will make clear just how crazy Donald Trump actually is -- and how criminal he is in his attempt to remain in power.
Here's part of what Rick Hasen had to say about the call at Slate.com:
President Donald Trump likely broke both federal and state law in a Saturday phone call during which he encouraged Georgia Secretary of State Brad Raffensperger to "find" enough votes to overturn the state's election results. The president certainly committed an impeachable offense that is grounds for removing him from the office he will be vacating in less than three weeks, or disqualifying him from future elected office. His tumultuous term will end as it began, with questions as to the legality of conduct connected to manipulating American elections, and a defense based squarely on the idea that Trump's mind is so warped that he actually believes the nonsense he spews. Trump may never be put on trial for what he did, but a failure to prosecute him may lead to a further deterioration of American democracy. . . .
This request is easily the kind of corrupt conduct that could serve as a "high crime and misdemeanor" subjecting him to removal from office, though with his departure imminent it seems unlikely that Congress would take up the case. The conduct, though, is much more egregious than the Ukraine threats that got Trump impeached one year ago, conduct that was also aimed at manipulating the election by pressuring Ukrainian officials to come up with fake dirt on Joe Biden. Trump, of course, also entered office under a cloud of suspicion over his campaign's links to Russia and Vladimir Putin's successful efforts to manipulate the 2016 election on his behalf. In the unlikely event that Congress were to make him the first president ever to be impeached twice—impeachments can happen even after elected officials leave office—then he could be disqualified from running for high office again in the future. When not attempting to overturn the results of the 2020 election, it has been reported that Trump has been planning a possible third run for president in 2024.
Aside from being impeachable conduct, Trump's actions likely violate federal and Georgia law.  A federal statute makes it a crime when one "knowingly and willfully …  attempts to deprive or defraud the residents of a State of a fair and impartially conducted election process, by … the procurement, casting, or tabulation of ballots that are known by the person to be materially false, fictitious, or fraudulent under the laws of the State in which the election is held." A Georgia statute similarly provides that a "person commits the offense of criminal solicitation to commit election fraud in the first degree when, with intent that another person engage in conduct constituting a felony under this article, he or she solicits, requests, commands, importunes, or otherwise attempts to cause the other person to engage in such conduct.". . .
Despite the long odds, I would hope at least Georgia prosecutors will consider going after Trump, or that the House of Representatives might impeach him again with the goal of disqualifying from running in 2024. Lack of prosecution or investigation demonstrates that there's little to deter the next would-be authoritarian—perhaps a more competent one—from trying to steal an election. Trump came a lot closer than he should have this time, and next time we may not be so lucky.