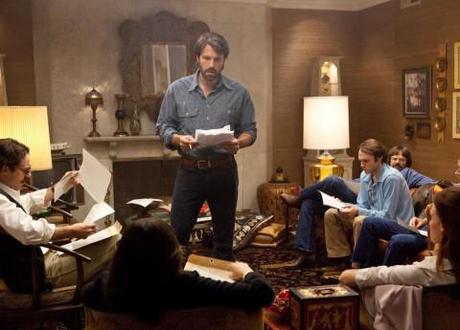 Ben Affleck's Argo premiered at Toronto. Photo Credit: Warner Bros.
The background
The Toronto International Film Festival has become widely recognised as the most important film festival after Cannes. What it lacks in yachts and beaches, it makes up for in a wide selection of quality cinema. This year has featured some big budget debuts, a plethora of literary adaptations and some standout performances that are sure to create a stir come awards season.
From page to screen
The hotly anticipated Cloud Atlas and Anna Karenina premiered at Toronto, both adaptations of critically acclaimed novels. They weren't the only ones, with Mike Newell's Great Expectations and the first cinematic takes on The Perks of Being a Wallflower and Midnight's Children also featuring.
The latest adaptation of Great Expectations arrived amidst a general chorus of "what, another one?" Even so, The Independent claimed that it is "a surprisingly worthwhile addition to the Dickens celebrations and one that lives up to expectations." Most of this success is attributed to the casting of Helena Bonham Carter as Miss Havisham, "the winning move of this adaptation." Whilst it may not be ground breaking fare, The Hollywood Reporter observed that it is "an assured version, no less entertaining for being quite conventional." Critics were less favourable towards the long awaited adaptation of Salman Rushdie's Booker Prize winning Midnight's Children, scripted and narrated by the author himself. The Telegraph called it a "sumptuously-illustrated Cliffs Notes rather than fluid cinema" and The Independent bemoaned its lack of depth, declaring it "never complex enough to work as an allegory of the complex relationship between India and Pakistan." There is little to complain about in The Perks of Being a Wallflower, but most critics agree that it is categorically teen fare: The Guardian calls it "a whooping, leaping carnival of shouting about your difference in the faces of all those jocks and squares who never even heard of Sonic Youth."
Tackling history
Ben Affleck's Argo and J.A Bayona's The Impossible both tackle incredible true stories; one pretty much forgotten and one that is set amidst the very much remembered 2004 Boxing Day tsunami.  Argo tells the true, and now declassified story, of the CIA's rescue of six Americans from revolutionary Iran in 1979. They did so by posing as a Canadian film crew, making a fake film called Argo. Affleck stars and takes the directorial helm for his third feature, responses have been resoundingly good. The Telegraph called it "gripping, urgent, funny and weighty" and noted the Oscar worthiness of the script by Chris Terrio. Similarly, The Independent observed that "Affleck deserves all the plaudits he will get for his work on both sides of the camera."
The Impossible tells the true story of one family's fight for survival in the aftermath of the tragic 2004 tsunami. Variety called it "a tremendous feat of physical filmmaking" that "captures the devastation wrought by the 2004 Indian Ocean tsunami with a raw, sickening intensity." The central performances, by Naomi Watts, Ewan McGreggor and newcomer Tom Harding, have been much praised. The Guardian notes that McGregor "gives one of his best performances as the sad and desperate Henry, trying to play the hero, the provider, while knowing his cause is almost certainly lost."
Dognappers and divorcees
Seven Psychopaths, Martin McDonagh's second film after his stirring debut In Bruges, premiered at Toronto this week. Also starring Colin Farrell, it tells the tale of a wacky band of misfits who end up the target of a fearsome mob boss, after dog-napping his beloved Shih Tzu. The Guardian called it "witty and inventive, cracklingly obscene and sheep-dunk bracing", whilst not quite cohering. The Hollywood Reporter also noted it "isn't about much beyond its larkish spirit" but calls it "terrifically entertaining" and praises its "witty pitch-black absurdism"
What Maisie Knew, starring Julianne Moore and Steve Coogan, rewrites Henry James' 1897 novel in a modern setting, telling the story of a girl trapped between equally unfit divorced parents. Critics have been unanimous in their praise of acting revelation Onata Aprile, who plays the six-year old Maisie. Variety calls hers "a piercing turn" in "a beautifully observed drama."
More in film

Tom Hanks-starring Cloud Atlas is bananas in a good way
The Master is a landmark American movie
Less starry Venice Film Festival opens