Alexander Skarsgard Talks About the Upcoming Season 6: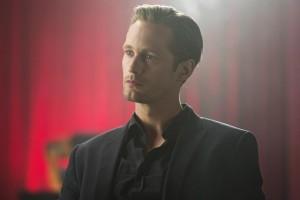 With only days to go before the much awaited premier of Season 6, True Blood fans are in for 'a wild ride.'
Alexander Skarsgard, who we all know and love as the manipulative bloodsucker Eric Northman, has spoken with Hollywood Outbreak about the upcoming season.
"It's been a wild ride this year, the humans are fighting back … for the first time in 1000 years, they could pose a real threat!"
Skarsgard has been quite busy in the off season too, appearing opposite Julianne Moore in the family drama What Maisie Knew as well as the upcoming thriller The East in which he co-stars with Juno leading lady, Ellen Page.
As much as he loves playing the character of Eric, he is an actor who likes to find new opportunities. Over the last few years he's had some amazing roles including Commander Stone Hopper in Battleship and Michael in Melancholia:
"It's all a combination of trying to find some great projects and also (finding) a little time to go to sleep, because I don't get a lot of that right now."
You can also check out the sound bite below. It features Alexander's insight into Season 6 of HBO's True Blood, premiering this Sunday 16th June.
Source: Hollywood Outbreak - Alexander Skarsgard On True Blood's "Pretty Wild" Season
(Photo Credit: HBO Inc.)