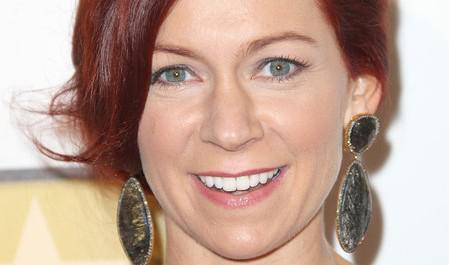 Michael Ausiello had some very interesting True Blood season 5 spoilers for us in this week's Ask Ausiello on TV Line.  Apparently there will be a tramatic death in an upcoming episode, three couples will have sex for the first time AND Carrie Preston (Arlene Fowler) will return to CBS' the Good Wife this coming season!
Question: I'm on the fence about this season's True Blood. Tell me something that will make me want to stick with it. —Lori
Ausiello: Three "couples" will have sex for the first time in this Sunday's episode.

Question: The previews for True Blood seem to spell doom for Arlene (Carrie Preston). First Andy seems to be questioning someone about her whereabouts, and now Tara's attacking her in her freezer. —Kellen
Ausiello: There's a pretty dramatic death in the next couple weeks, but Arlene is not the victim. In sorta-related news…

Question: Any plans for Carrie Preston to return to The Good Wife? —Caroline
Ausiello: Yep! "They definitely want me back," Preston tells TVLine. "We're just trying to work out the details. HBO has been very kind in giving me permission to do some more."
Who do you think is dying or having sex Truebies? tell me in the comments below!
Source: TV Line.com- "Ask Ausiello: Spoilers on Castle, Bones, Glee Psych, Weeds, Dallas, Leverage, Dexter and More!"
Image Credit: Kevin Winter, Getty Images