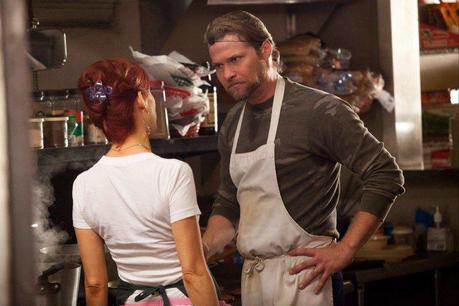 TV Guide's Mega Buzz elaborated more on the True Blood season 5 spoilers E! Online's Watch with Kristin and the episode 5.04 casting call has already mentioned about Terry Bellefleur's (Todd Lowe)'s tour of duty in Iraq. As we've been told in previous seasons of True Blood and Charlaine Harris' Southern Vampire Mysteries, Terry suffers from post-traumatic stress syndrome (PTSD) as a result of his time in Iraq. According to TV Guide, his flashback will reveal the specific incident that caused it:
"Now that Terry's old army buddy (Scott Foley) is in town, we'll finally discover what happened in Iraq that caused the Merlotte's chef to come back with such a severe case of PTSD. In a flashback to 2003, we'll see his squad head out for a night of partying and mischief that goes tragically awry."
While the scene will probably be hard for fans to watch seeing as how Terry has become a character we've all grown very fond of, it's nice to know that Todd Lowe will have a really good scene that is true to his character to contend with.
We'll Meet Again is slated to start shooting in Los Angeles this week.
Source: TV Guide.com- "Mega Buzz: Good Wife Comes Clean, the ParksElection and a Miami Team Shakeup."
Image Credit: John P. Johnson, HBO, Inc.