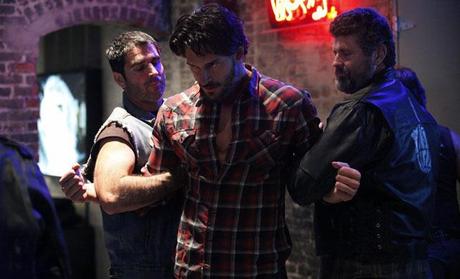 The teasing is starting Truebies! While at the Victoria's Secret fashion show, Joe Manganiello (Alcide Herveaux) recently hinted at some True Blood Season 5 spoilers involving the myriad of werewolves that have been cast for the season.  So far, three new werewolves will be appearing in Bon Temps; Marcus' mom Annie, a young were named Rikki, and an older male werewolf named JD who some have speculated sounds a lot like Jackson Herveaux, Alcide's dad in the Charlaine Harris novels.
Joe however couldn't contain his excitement to TV Line and here's what he told them about what to expect this season:
"Oh my god, I can't f—ing wait…The fact that they're basically busy casting an entire new pack of werewolves is unbelievable. There's going to be like a werewolf show within the show this this year, so I'm like a kid about it!"
On the subject of whether or not we'll see Alcide's dad however, Joe played coy:
"It may not be what you expect," teases Manganiello of the character, adding, "Alcide's dad is in [Charlaine Harris' fifth Sookie novel]. Whether or not he makes an appearance… well, that's a question for [executive producer] Alan [Ball]."
Do you think we'll see Alcide's dad? Tell me in the comments below!
Source: TV Line.com- True Blood Season 5 Spoilers: Joe Manganiello Teases 'Unbelievable,' Werewolf-Centric Season 5
Image Credit: HBO, Inc.