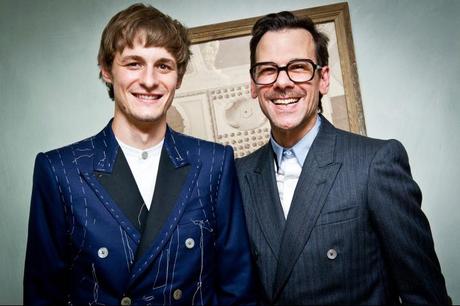 Happy Monday Trubies! The week seems to be starting off on a good note. E! Online's Watch with Kristin writer Tierney Bricker has some True Blood season 5 spoilers for us a little earlier than usual today. You might recall a spoiler I posted a couple of weeks ago from Team WWK concerning a new interest for Jessica (Deborah Ann Woll) named Claude, who may or may not be the same on from the Charlaine Harris book series.
Actor Giles Matthey is set to play the character according to the report and here's what E! Online had to say about it:
Relative newcomer Giles Matthey (On the left in the photo) is set to recur on True Blood's upcoming season in the role of Claude, a very attractive and mysterious young man, HBO confirms to us. And yes ladies, the British actor will be putting that accent to good use when he shows up in Bon Temps. Seems like even vampires can't resist a sexy accent!
The character of Claude was also bumped up to a series regular for next season according to a revised casting call. But perhaps they meant this season?
Either way, it sounds very promising doesn't it?
Giles Matthey will debut in episode 5.03, "Whatever I Am, You Made Me."
Source: E! Online.com-True Blood Casting Scoop: Jessica Gets a New Love Interest
Image Credit: Vogue.com