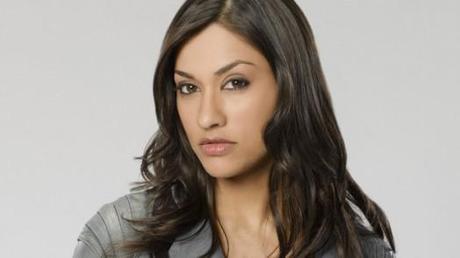 It's another True Blood spoiler-filled Monday Trubies! The queen of all things television scoop, Kristin Dos Santos has some new True Blood season 5 spoilers to reveal in her spoiler chat! Well…sort of. The Watch with Kristin team caught up with Janina Gavankar who plays shapeshifter Luna who revealed that in three weeks the cast will be back shooting some season 5 drama! Here's what she had to say:
Jody in Crown Point, Ind.: I know True Blood is starting up again soon. Got anything?

Gold stars for keeping track of TB's shooting schedule! "Three more weeks and we're baaack!" Janina Gavankar sings to us. "We just got out first script. It is intense. As you can imagine, stuff goes crazy right off the bat!" Unfortunately, that's pretty much all we got out of her, since True Blood loves to keep their spoilers secret…even from the cast! "They tell us nothing," she admits. "We actually have no idea. All I can promise is drama right off the top."
A season starting off with drama isn't exactly shocking given that A LOT of people died in season 4 and many relationships were up in the air by the time "And When I Die" aired. What kind of drama do you think is in store for our favorite characters?
Tell me in the comments below!
E Online.com- "Spoiler Chat: Scoop on Glee, Revenge, Once Upon a Time, Gossip Girl, and More"
Image Credit: ABC