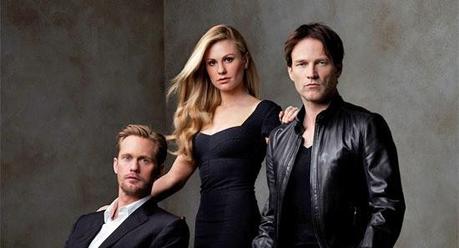 E! Online's Watch With Kristin had some True Blood Season 5 spoilers for us this morning in their daily spoiler chat. The team recently caught up with Alexander Skarsgård (Eric Northman) while he was doing press for his upcoming movie Battleship and he had something to say about the whole Sookie (Anna Paquin), Bill (Stephen Moyer), and Eric thing:
Eileen in Brooklyn: Anything you can tease about True Blood, like who is Sookie going to choose, Bill or Eric?
How about…neither? "We call it season of the bromance," sexy star Alexander Skarsgård told us at a presser for his new movie Battleship. "We just started [filming] and we're on episode four of season five. I have a lot with Steve [Stephen Moyer] this year," he said, quipping, "Eric is very intrigued by Bill now."
Interesting. So if Bill and Eric are doing more together onscreen, what will Sookie be up to now that she's decided to spend time without a man? Tell me all about it in the comments Trubies!
Source: E! Online.com- "Spoiler Chat Daily: A New Couple on True Blood? Plus, Scoop on Glee, Parenthood and More!"
Image Credit: HBO, Inc.