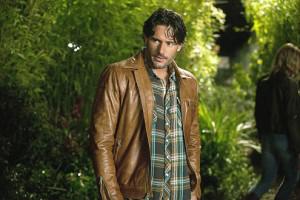 Joe Manganiello in True Blood/ John P. Johnson HBO, Inc.
The True Blood season 5 spoilers just keep coming Trubies! This particular piece of scoopy goodness comes thanks to TV Line's Ask Ausiello. In this week's column, Ausiello reveals the title of episode 5.09 Everyone Wants to Rule the World and he reveals some plot details involving Joe Manganiello's Alcide:
Question: OK, I'm dying here. Can I please have some True Blood scoop! —Mariamne
Ausiello: Ever wonder what an eight-pack looks like on a teenager? There's a good chance you'll find out in this season's ninth episode, titled "Everybody Wants to Rule the World," which introduces us to an "innocent-faced" 14-year-old Alcide. That flashback sequence also features a young Debbie, so my guess is we'll probably see how that toxic relationship of theirs took shape. Speaking of TB, the show is also casting a Marilyn Manson-esque vampire who was once powerful and heroic but is now a sad old man.
Anyone excited to see the beginnings of Alcide and Debbie (Britt Morgan)? Tell me in the comments below!
Source: TV Line.com- "Ask Ausiello: Spoilers on Castle, Grey's Anatomy,Gossip Girl, Glee, True Blood and More!"