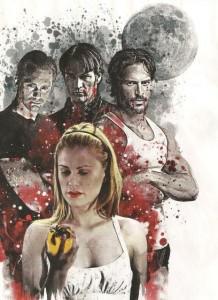 Entertainment Weekly has dubbed Season 4 of True Blood the summer's "Best Bloodbath" in its annual Best of Summer issue. One of the big draws for tuning into the True Blood season 4 premiere on June 26th doesn't necessarily have to do with "where's Sookie?" but more with "who will she choose?" The love triangle pulsating between Sookie (Anna Paquin), Bill (Stephen Moyer), and Eric (Alexander Skarsgård) – and maybe with a side of werewolf thrown in there (who can forget about Joe Manganiello's Alcide Herveaux and his obvious (mutual) attraction to Sookie??) – appears to come to a head in season 4. Or, will it? True Blood's creator, Alan Ball, likes to keep everyone guessing and he's definitely done a great job of that with the past three seasons. And according to Alan, it sounds like Sookie will be battling her usual demons (and now witches, thanks to Fiona Shaw's Marnie) in season 4:
"It's hard to be Sookie. You've got three insanely hot guys battling for you, but you're also in danger constantly and having to fight your way out of this or that, and trying to not get killed."
The June 3rd-10th issue of EW previews the best movies, TV shows, music, books, stage, and tech to hit our world beginning in June. It's on newsstands now.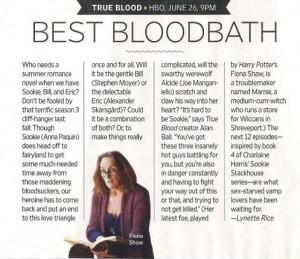 Source: Entertainment Weekly – Best Bloodbath
Photo credit: Entertainment Weekly