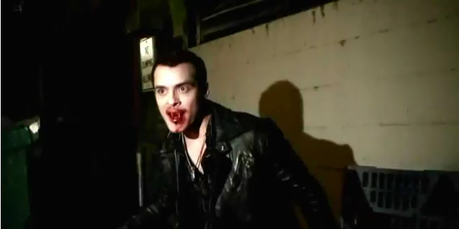 It's Friday Truebies and in just a little more than 48 hours we will be able to indulge in True Blood once again with the third episode of season 4 "If You Love Me, Why Am I Dyin'?" Now last week I posted several short clips from episode 3 but today we get 4 more clips from the new episode! The first one features a vampire being captured on camera feeding on a human.
The next one is the aftermath of that incident with the vampire in question answering to King Bill Compton (Stephen Moyer) who is dealing out some pretty harsh punishments for those dumb enough to get caught on camera feeding.
Ep. 39 Clip: Bill Metes Out Punishment
In the third clip, we get to catch up with Jason (Ryan Kwanten) who is still very much alive after being bitten by Crystal (Lindsay Pulsipher) on purpose and boy is he pissed!
Ep. 39 Clip – Crystal Comforts Jason
The final clip is a scene between Tara (Rutina Wesley), Lafayette (Nelsan Ellis), and Holly (Lauren Bowles) after Eric (Alexander Skarsgård) has bitten Marnie (Fiona Shaw) and departed. Lafayette warns them and the rest of the group that Eric is 1000 years-old and NOT someone that they should mess with. We hear you hookah! Watch:
Ep. 39 Clip – Tara and Lafayette Discuss Eric
So what do you think of those clips Truebies? Are you excited? Tell us in the comments below!
Sources: HBO.com- "Watch a Clip From Episode 39: Bill Metes Out Punishment"
HBO.com- "Watch a Clip From Episode 39: Crystal Comforts Jason"
HBO.com- "Watch a Clip From Episode 39: Lafayette and Tara Discuss Jason"
YouTube.com- "True Blood Season 4: Vamp Kills Clip"
Image and Video Credits: HBO, Inc. and the True Blood Source