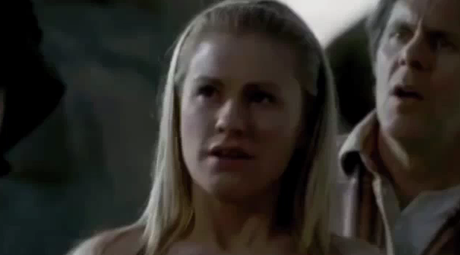 Last time we left Sookie (Anna Paquin) and Granddaddy Earl (Gary Cole) in fairyland, things were not looking so sweet and light. In fact they were looking downright scary since Sookie fought back against Queen Mab (Rebecca Wisocky) because the illusion of fairyland melted away. So now the pair is in danger and is trying to run from Queen Mab and the other fairies.  Luckily for them another fairy, Claude perhaps, shows Sookie and Earl the portal back home. The catch is they have to jump into a huge dark canyon…and since Earl has eaten the light fruit he can't go. What's going to happen? Watch:
(The previous 6 minutes can be seen here)
Source: YouTube.com- "True Blood: Season 4 Final Sneak Peek (HBO)"
Image and Video Credits: True Blood Italia and HBO Inc.