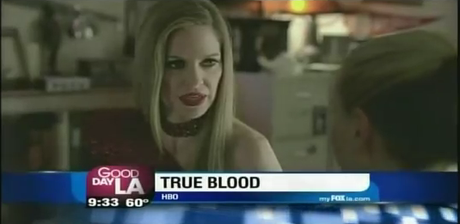 In just six days, True Blood's season 4 episode "She's Not There" will premiere but in the meantime we've got something to tide you over. The always wonderful Kristin Bauer van Straten (Pamela De Beaufort) stopped by Good Day LA to discuss her work on True Blood and thanks to her PR firm Fifteen Minutes PR, we now have the complete interview! The actress has been busy winding up shooting on the series which wraps for the season in the coming weeks. Along with Kristin's appearance comes a clip with none other than Pam and Sookie (Anna Paquin). Judging by the way Pam is dressed it might be from episode 3, "If You Love Me, Why Am I Dyin'." So what are Pam and Sookie discussing…it sounds like being bonded, by what we don't know. But Kristin does give a great interview so enjoy watching and remember six days to go:
Source: YouTube.com-"Kristin Bauer, Good Day LA 6/20/2011″
Image Credit: Good Day LA and HBO Inc.
Video Credit: Good Day LA, Fifteen Minutes PR, and HBO, Inc.