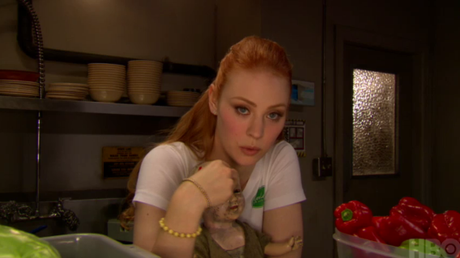 As we saw in If You Love Me, Why Am I Dyin, Jessica (Deborah Ann Woll) admitted to Hoyt (Jim Parrack) that she fed from another human. And when Hoyt tried to walk out Jessica glamoured him. In the following video, Jessica discusses her decision to do that and whether or not glamouring is really ethical as well as her struggles with her new vampire powers.  Watch:
Jessica's Blog: The Ethics of Glamouring
And in this week's episode, I'm Alive and On Fire, Jessica gives her blood to Jason (Ryan Kwanten) after she and Hoyt find him on the road to heal his bad injuries. In a short entry, Jessica addresses the fact that her blood was very helpful to Jason despite the fact that Hoyt had called her blood shit in the previous episode. There are other things that Jessica thinks of as shit, like Hoyt getting into the fight with protestors outside of Fangtasia in episode 2, or her father's beatings. She ends the post by saying that even though she knows things are unraveling with Hoyt, it's not because of her blood.
To read more of Jessica's thoughts, see her blog here.
Sources: BabyVamp-Jessica.com- "The Ethics of Glamouring"
 BabyVamp-Jessica.com- "Things That Are Shit"
Image Credit: HBO, Inc.