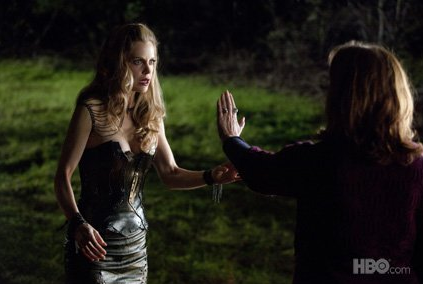 Hey Truebies! While we might have just gotten a nice dose of True Blood season 4 with "If You Love Me, Why Am I Dyin'"  HBO has released the video promo for next week's episode, "I'm Alive and On Fire."  In it we see Pam (Kristin Bauer van Straten) confronting Marnie (Fiona Shaw), Sookie (Anna Paquin) begging Eric (Alexander Skarsgård) not to drink from her, Jason (Ryan Kwanten) trying to refuse sex, and of course Nan Flanagan (Jessica Tuck) calling Bill (Stephen Moyer) on his recent decisions.
Things are definately heating up! I know I can't wait for the next episode. But what about you? Tell me in the comments below!
Ep. 40 Preview
Source: HBO.com- "Episode 4.04 I'm Alive and On Fire Preview."
Image Credit: John P. Johnson, HBO, Inc.