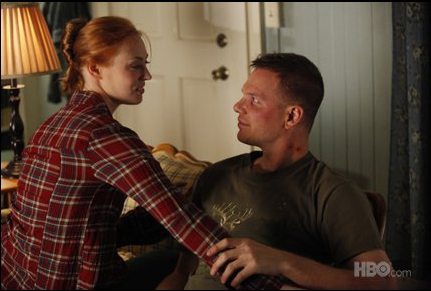 It's Tuesday Truebies and with that another all new Ask Ausiello column full of True Blood season 4 spoilers! In this week's edition, King of Scoop Michael Ausiello discusses, Arlene (Carrie Preston) and Terry's (Todd Lowe) baby Michael, a new triangle that doesn't involve Sookie (Anna Paquin), and what Sookie thinks could happen after she goes through a bad experience. But first let's talk about baby Mikey who at last shot was seen with a marker and red ink all over his hands. According to Ausiello, that's just the beginning:
 "Having seen the next three episodes, I'm gonna go with evil. Look for that little demon spawn to develop a bad case of pyrokinesis later this month."
Now that we know something's up with Mikey, what about Jason (Ryan Kwanten) who was last seen taking Jessica (Deborah Ann Woll)'s blood after being badly injured. Apparently things are going to get interesting between the two creating a love triangle:

"Move over Eric/Sookie/Bill. There's a new triangle in town, and the participants are named Hoyt, Jessica and Jason."
In other news, another character on our show is in need of a doctor and I'm sure we all know who based on the last scene of I'm Alive and on Fire and a male character is going to be doing double duty:
"Elsewhere, a major female character will soon be in desperate need of a plastic surgeon, while a major male character takes on a  surprising dual role."
Sookie in the meantime experiences a trauma that brings her clarity of sorts if you will.
"And I know I told Eric (Alexander Skarsgård)/Sookie/Bill (Stephen Moyer) to move over, but let's bring 'em back for a second. Feast your peepers on this tantalizing tease for the Aug. 21 episode: "Convalescing after her latest near-death trauma, Sookie envisions a world where there's room for both Bill and Eric." If that's not a euphemism for a threesome I don't know what is."
Very interesting I think! It's also worth noting that source Ausiello quoted from came from the episode descriptions for 7-10 which can be found here. Are you excited for what's coming? Tell me in the comments below!
Source: TVLine.com- Ask Ausiello: Spoilers on Private Practice, Parenthood, NCIS, True Blood, and More!"
Image Credit: HBO, Inc.