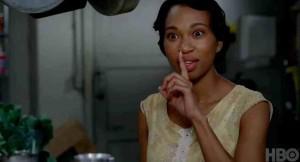 Well, Truebies, we're seven episodes in – how are y'all feeling about the way things are progressing in Bon Temps? Still craving season 4 spoilers and gossip? Thankfully there's plenty to be had! TV Guide Magazine printed a couple of  juicy True Blood season 4 spoilers in their August 15-28th double issue, one of which reveals who baby Mikey's mystery ghost is: Mavis (Nondumiso Tembe), a Creole woman from the 1930′s, who apparently isn't going to leave without a fight. And it sounds like Lafayette (Nelsan Ellis) and Jesus (Kevin Alejandro) may have a hand in trying to get her to leave. According to Ellis:
"Lafayette and Jesus will get themselves in some pretty sticky situations. But Jesus arises as Lafayette's hero and vice versa. It deepens the relationship."
But don't get your hopes up for possibly seeing Lafayette and Jesus get down to business in the bedroom. Ellis went on to say:
"We're building something nice with Jesus and Lafayette that's rare on TV. There's no hot, steamy sex scenes – just a deep connection with two people falling in love."
Pam's face has been another topic of much discussion, and show creator Alan Ball clarified why her face isn't actually healing at vamp speed:
"The witch's power overrides the vampire's ability to heal."
After Sunday's painful chemical peel, we're hoping that Kristin Bauer van Straten's sassy character will get her pretty face back soon enough.
The August 15-28th double issue of TV Guide magazine is on newsstands now.
Source: TV Guide Magazine – Scene Stealer True Blood's Nelsan Ellis
TV Guide Magazine - Why isn't Pam's face healing on True Blood?
Photo Credit: HBO