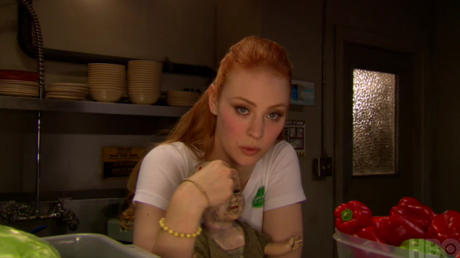 It's Monday Truebies and with that comes some much needed True Blood season 4 spoilers from E!'s Kristin Dos Santos of Watch with Kristin after last night's heart palpitating episode, Cold Grey Light of Dawn. So the question on everyone's minds is, is Jessica (Deborah Ann Woll) alive? The answer? Yes! Here's what Kristin had to say about it:
"I believe so, yes. I'm told that we'll soon see her inside the witch store with Fiona Shaw (Marnie), watching Bill (Stephen Moyer) out in front doing something very bad. Like, you know, life or death kind of bad. Oh…I'll just come right out with it: Bill kills someone! Or, more accurately (not grammatically though) is that Bill kills someones. As in plural. Also hearing that Tara (Rutina Wesley) somehow injures her arm, and Jason (Ryan Kwanten) will be packing (up) something other than heat. Lots of good stuff coming."
And just for extra proof, click here to see the video with footage of the cast filming the last few episodes that I posted before the start of the season. Deborah is in it!
Source: E Online.com- Spoiler Chat-Spoiler Chat: Chuck Bass Attacked by a Werewolf?! Get Scoop on Gossip Girl, House, Glee and More"
Image Credit: HBO, Inc.