SPOILER ALERT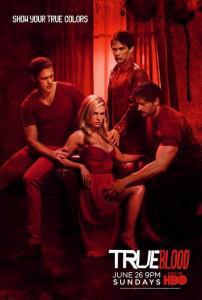 Sookie's dismissal of Bill and Eric represents another step in the once-naive character's growth,
Anna Paquin
says.
"She tells them to go to hell, literally," she says. "It means she's done being messed with. Those boys have been nothing but trouble, some fun trouble along the way, but ultimately there's been some major stuff that has happened that has been problematic since vampires walked into her life."
The newly dumped Bill, according to his portrayer Stephen Moyer, finds plenty to keep himself occupied. "Bachelorhood kind of turns out all right for Bill. I think he decided to enjoy it while he can. A lot of responsibility smoothing over the Russell Eddington nightmare. He's trying to make vampires attractive to humans again, by sort of doing press, without giving too much away." However, he  has not given up on Sookie. "He makes the decision that if you're going to love somebody, set them free, and the only way to allow that there might possibly be some rekindling down the line is to let her be the person that she needs to be without making her feel like he's watching her every move." Moyer also debunked a rumor about Bill creating a torture chamber in his basement, insisting, "It's not a torture chamber."
Will Eric even remember how he feels about Sookie? When a witch decides to erase Eric's memory, he becomes a new man. According to Alexander Skarsgard, "He's definitely more vulnerable. He doesn't know who he is anymore so he's very naïve. The old Eric is gone."
"I think the writers wanted to try to find something that could weaken a vampire or control a vampire in some way," Moyer says. "The witches are a conduit for something that hasn't been around for 400 years. They represent something that can have control over vampires that is very threatening."
According to Joe Manganiello, "Alcide's situation is a lot more complicated romantically when you see him first in episode 3. I don't think he's had a change of heart so much as much as he wished things could be a little different. There's some certain substantial things that the fans will find out in those first few episodes. Had [Sookie] responded differently, I think he would have built that house for her."
Sookie becomes a lifeline for Alcide. "Alcide is a recluse. He just wants to be left alone. He hates being a werewolf. He hates that he was cursed – he sees it as a curse. The great thing about Sookie is she drags him out on all these adventures. This little thing drags him out of the house. Really, I think she's the key to unlocking that reluctant hero inside of him and I think he recognizes that's a good thing."
With the witches, Blood also becomes a bastion of equal opportunity. "What the witches bring us is the idea of magic being available to humans," executive producer Alan Ball says. "It's not just the realm of supernatural creatures, of creatures who were born into it. Characters who are human can find themselves being part of a group on this wild mission against vampires, which up to this point would have seemed like a suicide mission."
Despite Bon Temps' boom in the occult population, Ball doesn't think there are too many characters or stories for the audience to digest. And ratings — the initial airing of each episode averaged 5 million viewers last season, up 16% from the season before — suggest fans can handle it. Besides, there are always fewer characters standing as each season progresses.
"It is a violent show, so we cull the herd at least once a season," Ball says. "It's dangerous to live in Bon Temps."
source, source