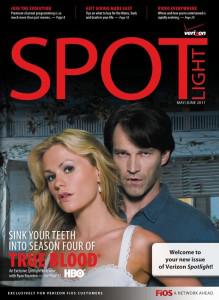 It's no spoiler that True Blood season 4 has been dubbed the season of the witch, and Verizon's Spotlight Magazine has let a couple of cats out of the bag in a recent interview with Ryan Kwanten (Jason Stackhouse).  Like, while away from Bon Temps, Tara (Rutina Wesley) develops supernatural abilities, Bill (Stephen Moyer) and Queen Sophie-Anne (Evan Rachel Wood) will continue to fight in a "killer" brawl, and Sookie (Anna Paquin) will return home to Bon Temps from "fairyland" after learning about her heritage. And what will Jason be up to? Spotlight got the details from Kwanten himself.
Season 3 ended with Jason trying to seal a deputy deal with Sheriff Andy Bellefleur (Chris Bauer), while juggling a new romance with Crystal Norris (Lindsay Pulsipher), on top of becoming the new guardian of the misfit brood in Hotshot. Kwanten told Spotlight that "anyone who knows anything about Jason knows he's not a guy who should be given a gun", and as for romance:
"He (Jason) is getting ready for the notion of love. But as we've seen on the show, any character that has gotten close to him has ended up in a grisly death, so he goes into this relationship with a lot of caution."
Hmmm, by the way things looked in season 3, Jason didn't look at all like he was exhibiting caution about jumping into a relationship with Crystal, and more like he was in hot pursuit of her and would do anything to be with her. But a new season means new experiences, and it sounds like Jason might pump the brakes a little on the relationship. What do you think, Truebies?
The May/June issue of Spotlight magazine is available online now.
Source: Verizon Spotlight Magazine – A Killer Season, Ryan Kwanten Talks About Season Four of True Blood
Photo Credit: Spotlight Magazine