Soundtrack for the First Episode: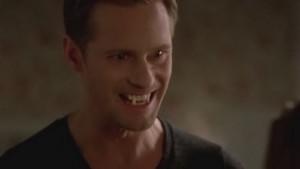 Happy Season 4, everybody!
And what a way to start. After spending "10 or 15 minutes" in Faerie World, Sookie returns to Earth a whole year later. Jason is now officially a cop and is still looking out for the Hot Shot kids. Arlene is monitoring baby Mikey's every move, Sam is hanging out with a new group of shifters, Jessica and Hoyt are dealing with domestic life as best they can, and Tara's got a new hobby and a new relationship. Bill has moved on to bigger and better things, while Eric takes advantage of Sookie's situation. Oh, and witches! Jesus and Lafayette join Marnie's group for some meditation and spell-casting. Fun all around.
Below is a list of songs from True Blood's episode 1 of season 4, "She's Not There," along with its correlating plot point, courtesy of HBO.
(Songs marked with a [*] are available for purchase at HBO.com)
Joan Jett and the Blackhearts – Real Wild Child
Tara is fighting at a lesbian bar.

Soda Jerk – What's On Your Mind
Plays outside the Lesbian bar in the alley in New Orleans.

Danny Wilde – Better Get On
Sookie is back at Merlotte's. Arlene welcomes her and tells her about the baby. Lafayette has a few updates as well.

Misisipi Mike Wolf – Calling the Shots
Maxine enters Merlotte's.

Blakroc (Feat. Billy Danze, Jim Jones, and Nicole Wary) – What You Do To Me
Tara and Naomi make love.

El Camino – Dues
Portia and Sookie chat at Merlotte's.

Slick Idiot (remixed by Schneider of Rammstein) – Xcess
Jessica dances at Fangtasia. She has an admirer.

Neko Case and Nick Cave – She's Not There*
End Credits.
This is only the beginning. What did you think?
Source - HBO.com – Season 4 Music
(Photo Credit: HBO, Inc.)