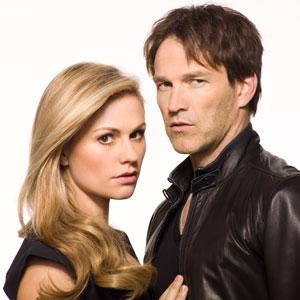 It is no secret that True Blood's Anna Paquin (Sookie Stackhouse) and Stephen Moyer (Bill Compton) are incredibly in love.  Their scenes together are steamy and hot, but as fans of Charlaine Harris' novels know, in Season 4 Sookie's connection with Eric Northman played by Alexander Skarsgard, will grow.  With that connection also comes intense intimate scenes (shower scene anyone?) and many people are wondering how Moyer feels watching his wife act this out on screen.  Spouses of actors are used to seeing their significant others make out with other people on screen but the fascination with this scenario is because both parties are on the same show.  Skarsgard has recently said that these intimate scenes actually require a lot of effort to make them look good and he described them as awkward.  Scene Magazine spoke to Moyer recently and he talked about his thoughts on watching Paquin with Skarsgard, along with his racing hobby. 
People looking for jealousy and drama on the set will be disappointed.  We have heard several times that the cast is very close and when speaking about those hot scenes between Paquin and Skarsgard Moyer says:
"I'm glad it's him because I'm really close to him and I've got a lot of love and a lot of trust."
Moyer participated in the Toyota Pro Celebrity Car Race and he says he would love to see Paquin driving in the races as well.   That could take a little more time since Paquin has only been driving for a year and a half, however Moyer is still trying to talk her into it. 
Recently Moyer's 11 year old son visited the True Blood set and got to see his dad in full vampire glory:
"I, as usual, am covered in blood. I've got silver chain marks on every single part of me. I'm crying blood tears…uh, that's what he gets to see!"
How many Truebies would love the chance to visit the True Blood set!  Lucky kid!
Source: EOnline.com – Stephen Moyer Cool With Anna Paquin Slurping Hot Blonde
Photo Credit: HBO, Inc.