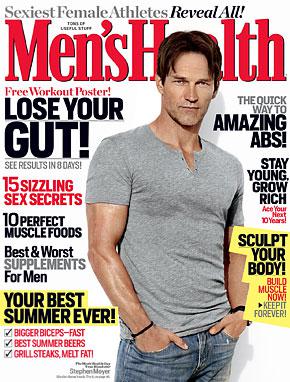 The cast of True Blood is full of beautiful men and women who are all in fantastic shape.  Stephen Moyer, who plays Bill Compton, has had some pretty steamy sex scenes with real life wife Anna Paquin (Sookie Stackhouse) so keeping fit in order to look great on camera is very important.  Moyer is featured on the cover of the July/August issue of Men's Health Magazine and inside he reveals the secrets to how he gets that body and talks about how his feelings for Anna Paquin developed. 
It seems that Paquin is quite the generous wife.  Moyer reveals that if she is present, and approves of the woman, he can sign fans boobs and sometimes even bite boobs and necks.  A perk of the job no doubt.  Moyer says he was intrigued by Paquin because she was very open with work but was closed off personally.  After they filmed the pilot, he had a strong desire to keep talking with her and the two began speaking every night for two or three hours on Skype.
Moyer says that he hasn't always been in fantastic shape and admits that he is very lazy.  In order to stick to his workouts he has to have a trainer to keep him motivated and make him feel bad if he doesn't show up.  On a show when you are surrounded by guys like Ryan Kwanten, you don't want to be the one to even be a little out of shape.  Plus Moyer wants his kids to see in a positive light.
"I didn't want my kids to look back at the show in 20 years' time and go, " 'Who's that slobby git? Oh, it's you, Dad.' "
The article runs through Moyer's workouts although they never do the same workout twice.  After working out he goes and boxes with a retired fighter, something that Paquin enjoys doing as well.  As for workout advice Moyer says:
"There's no immediate payoff,.  Sometimes it feels like it's taking forever to see results. It takes commitment and time, but when you start to see results—when you feel a bit leaner or you're doing more reps—you start to think, Wow, I can see a difference! And it's palpable. I recommend it."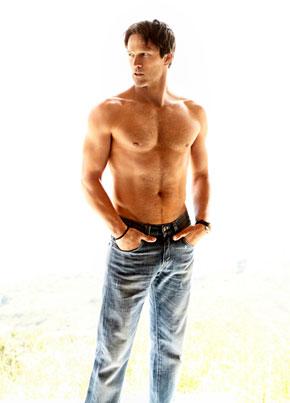 Another aspect to that body is Moyer's eating habits.  Here are some of his recommendations:
Frequency:  He recommends eating seven small meals a day and not to overeat at any of those meals. 
Mindset:  Eat analytically not emotionally – separate your eating from your mood. 
Snack:  a staple snack for Moyer which he highly recommends, includes eating an apple, a small piece of cheese followed by some almonds. 
Convenience Meal: find a meal that is healthy and easy to make.  For Moyer it is his variation on chili. 
"Chop a bit of garlic, fry it in a pan, throw some onion in there, and instead of ground beef, put in ground turkey," he says. "Get it brown, pour in a tin of tomatoes, add salt and pepper, let it sit for 20 minutes. It's as simple as that. And it's great."
Cooking Technique: Moyer uses a bamboo steamer to steam his fish.  He puts the fish on a plate, puts ginger and a few drops of soy sauce on top, steams for 10 minutes and voila you have an excellent meal.
Do you want abs like Moyer?  Click here to view his ab workout from hell.  Its clear that hard work is paying off!
Source:  MensHealth.com – Stephen Moyer's Fitness Tips and Advice
USMagazine.com – Stephen Moyer: Wife Anna Paquin Lets Me Bite Fans' Boobs
Photo Credit: Mens Health Magazine