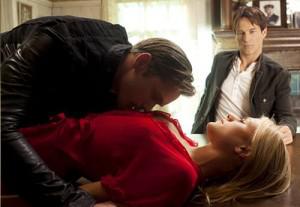 Now that season 4 of True Blood has wrapped, our favorite cast is now off doing other projects, visiting friends and family, or taking much needed vacations. For a lot of them, though, it's mostly all work and no play. As Stephen Moyer (Bill Compton) confesses to the Daily Record, he and wife Anna Paquin (Sookie Stackhouse) "try to plan holidays and time together, but there's always a gig coming up and it's just the way of the world and the nature of the job that the only chance we get to spend a lot of time together is on True Blood."
With the quickly expanding popularity of True Blood and it's amazing ensemble cast, it's no surprise that cast members are booking more and more projects, leaving them less time to just chill out during their hiatus between filming seasons of the dramatic vampire series. And as busy as Moyer and Paquin seem to be, they aren't necessarily complaining about not being able to "spend a lot of time together on the sofa." Once season 5 of True Blood begins filming, the couple will actually get to spend more time with one another, even though the characters they play aren't necessarily the ones spending the quality time together:
"We work well together and the connection we have makes even the smallest material fun to try…And for the sex scenes, we both have to do it, so it's not like one of us gets to be jealous while the other one gets all the fun. What's good about True Blood is that Alex Skarsgård (Eric Northman) is a good friend of mine. So it's not an issue. Although I've joked that she does look like she's having a really good time with Alex, so I've asked him for pointers."
Given Skarsgård's recent interviews about sex and nudity, he seems to be a great resource for such pointers.
Moyer is currently in Toronto filming a horror movie about the Jersey Devil, and once that wraps up, he's heading to L.A. to produce the film Free Ride, a family drama starring none other than his lovely wife. Moyer's new thriller, The Caller, is currently in theaters. Click here to read Moyer's full interview with the Daily Record.
Source: Daily Record – Work ensures I never get much time on the sofa with wife and co-star Anna Paquin, says True Blood's Stephen Moyer
Photo Credit: HBO