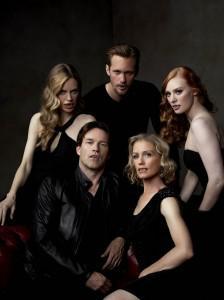 True Blood fans waited anxiously for nine long months for the True Blood Season 4 premiere and they were not disappointed.  One of the key plot twists was the time jump while Sookie was in faerie land, moving all of the action in Bon Temps ahead one year.  Given that the last three seasons had all taken place in the space of a couple of months, fans welcomed this change.  This advance in time earned the True Blood season premiere the TV Guide Top Moment of the Week.  Here is the complete list of their top moments for the week:
15. Most Nauseating Puppy Love: Platinum Hit's lovebird hipsters Johnny and Jes get all warm and fuzzy when they learn their challenge is to write about love — you know, that crazy thing that makes people weak in the knees and apparently abuse the English language. "Not surprisingly, a lot of Jes on my mind," Johnny tells the camera. "And I think both of us have plenty of inspir-aysh to pull from." Gag.

14. Most Unusual Display of Masculinity: When an old picture surfaces of Teresa's husband, Joe, doing a split on The Real Housewives of New Jersey, he is eager to show he's a real man (?) and replicates the pose — albeit very slowly. Adding to the gender confusion, one of the other men quickly compliments Joe on being able to "spread easy." Aw, we guess now we know what attracted Teresa to Joe, right?

13. Baby Got Back Award:Out to prove her famous derriere is all natural, Kim Kardashian gets a butt X-ray on Keeping Up With The Kardashians. The result: no implants. "I am so glad that I did this X-ray, just for the fact that my sisters annoyed me and were picking on me just to get at me and the whole world doubting me," she says. "This X-ray is, like, the best thing I ever could have done." Yeah, people, it's real and it's spectacular.

12. Best Burn: Covert Affairs' Auggie gets an overt promotion when Arthur offers him a tempting position that would require him to leave the spy world to be a public face of the CIA. Suspect about Arthur's true motives since he's under investigation, Auggie suggests it's all a PR tactic, as a blind guy would elicit sympathy: "You're in a public relations nightmare and I'm the feel-good hit of the summer." Diss and all, he accepts the promotion… for now.

11. Best Hat Trick: Peter and Neal must fake a big blow-up as part of a con on White Collar and the two have no problem getting into character. Peter fake-fires Neal before hitting him where it really hurts by ridiculing his signature fedora. Neal is all-too-happy to fight back: "The next time your hot wife gets lonely, tell her to call me," he says, much to the quiet consternation of Peter. Lesson learned, Peter. Never insult the man's fashion sense.

10. Least Stealthy Drug Deal: On The Big C, Cathy caves and takes Dr. Mauer's advice to smoke pot to relieve pain from her melanoma. But instead of seeking out a legal medical marijuana prescription, she chooses instead to get her weed the old-fashioned way: on the street outside a shabby warehouse from Paul's sketchy former dealer. Giddy with having completed the successful transaction, she skips back to the car with schoolgirl glee, casually waving the bag at Paul. "Smooth," he quips.

9. Kids Say The Darndest Things Award: In light of rumors that Two and a Half Men plans to off Charlie Sheen's character, Jimmy Kimmel taps into his most creative resource for ideas: kids! They suggest having fire ants burn his face, pelting him with Barbie dolls, and — our favorite — blowing him up with a Bazooka. However, we wouldn't recommend using the idea of the girl who says Charlie Harper should die the same way her cat did: cancer. Meow! Sniff?

8. Most Timely Response: Yeah, it wasn't the smartest move for Mark Halperin to call President Barack Obama a "d—" live on Morning Joe, but that uncensored expletive wouldn't have flown if not for the ineptitude of a producer who didn't know where the delay button was. "I would tell you what I think of you," Joe Scarborough tells the sheepish control room, "but you don't know what button to push."

7. Best Goodbye That Isn't: He already lost his job once and after weeks of NYPD-mandated therapy, it looks like the series finale of Law & Order: Criminal Intent will also be the last hurrah for Detective Goren. But just when his therapist tries to pass him off to another doctor, he gives the card back and asks to come back the same time next week. He walks outside, tells Detective Eames it went "good" and the two run off to solve another crime. It's nice to know these two are still pounding the pavement, even if we won't be able to see it.

6. Craziest Love Train: When Mary Murphy tries to ask two So You Think You Can Dance contestants how they managed to fake a very passionate kiss during their routine, Nigel Lithgowe puts his money where his mouth and shows Mary how it's done, planting a big wet one on her. Feeling inspired, guest judge Kristen Chenowith turns to fellow guest judge Lil' C and does the same. Nigel fights to get the last word, er, kiss in, and runs to also kiss Lil' C. After so much spit-swapping, the hot tamale train's fire is now officially snuffed.

5. Everybody Wins Award: True, only one person can win The Voice but host Carson Daly does his best to spread the joy, singling out both Javier Colon and Dia Frampton for reaching No. 2 and No. 1, respectively, on the iTunes charts before announcing Javier as the winner. And if Javier's shock and euphoria isn't enough, the look on proud papa/coach Adam Levine's face as he throws his hands in the air warms the hearts of even the most cynical viewers.

4. Best Self-Sacrifice:On The Bachlorette, Ashley finally gets closure from Bentley (swapping a "dot-dot-dot" for a period, of course), but while she's ecstatic about moving on, the guys aren't so thrilled that she has seen Bentley behind their backs. Mickey, in particular, expresses his disappointment thusly: "If your gut is [saying] that's what you're looking for, please send me home." Ashley responds, "If you feel so strongly that you want to leave, then I want you to take the initiative and leave." And so he does — without even realizing that he just eliminated himself. Way to take one for the team, Mickey! Now please let us just miss you; don't follow the clichéd Bachelorette playbook and return in six episodes.

3. Most Awkward Blunder:Chris Brown and Rihanna get caught in another uncomfortable situation at the BET Awards when fan presenter Tiffany Green receives mixed messages about the Viewers' Choice winner. Reading from a tablet, she announces Brown as the victor before squinting, confused, at the teleprompter. "I'm sorry. Rihanna," she says, as Drake accepts the award on the songstress' behalf. "Well, this is awkward," he sums up. Turns out, Brown was the winner after all. The lesson? Stick to writing winners in envelopes.

2. The Best Defense Is a Good Offense Award: In the latest John Stewart vs. Fox News beef, the Daily Show host fires back at the network's allegations that his Herman Cain imitation is racist. Stewart turns his crack research team on none other than himself. Using the classic "I'm just a comedian" defense, Stewart rolls an offensive highlight reel of him doing every stereotypical accent possible on the show over the years. If only Fox News could have seen these! Oh, wait.

1. Best Story-Line Kickstarter:What do you do when your season finale sends your star off to Fairyland, moves another out of town, positions two adversaries in a to-the-death battle and announces an unplanned pregnancy? If you're True Blood, you blithely exposit that time moves differently in Fairyland and move all the show's action ahead a year, lickety split. For a show that staged three seasons of action within the space of a few weeks, it's refreshing that it's finally time to move on. What a difference a year makes, huh?
Source:  TVGuide.com – Top Moments: True Blood's Lost Year and Stewart Goes On The Offensive
Photo Credit:  HBO, Inc.