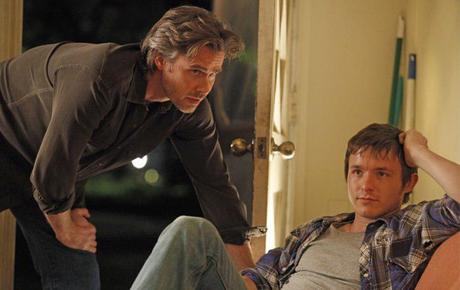 HBO and the cast of True Blood have been busy promoting Season 4 which premieres June 26th.  Teaser videos, spoilers and cast interviews have been keeping fans waiting for any little bit of information they can find.  Sam Trammell who plays Sam Merlotte on the hit show recently talked with TV Fanatic about what we can expect to see for his character this season.
First up is one of the big cliffhangers from Season 3 – did Sam shoot Tommy or didn't he?  Trammell's not telling but he does confirm that Tommy is around this season. He also says that the rest of Sam's family will come back to haunt him.
Next up Trammell talks about Sam's love life.  Poor Sam has been unlucky in love but it appears that this is going to change this season.  His new love interest is a shape-shifter named Luna, played by Janina Gavankar.  Trammell describes the relationship in the interview saying:
"She's part of a new shape shifter community that I meet.  We explore the shape-shifting mythology a lot this season and flesh out more details as far as the role of shape-shifting in the world. We'll meet others like Sam."
In the interview Trammell reveals that he is a fan of Charlaine Harris' books.  When he landed the role he read the first few books in the series because he was so excited.  He says he didn't realize how popular the show was until Comic-Con after Season 1 where the the crowd was twice the size it had been a year earlier.  When speaking about Comic-Con he says:
"You feel like you're The Rolling Stones or something walking out on that stage."
With all the teasers that have been released it certainly looks like Season 4 will be a fantastic season for us fans!
We would like to thank TVFanatic.com for sending us this submission.  Truebloodfansource.com is always looking for news to post so if you have any tips, suggestions or articles you would like to see on our site, click here to contact us.
Source: TVFanatic.com – Exclusive: Sam Trammell Teases True Blood Love Interest, Family Haunting
Photo Credit: HBO, Inc.