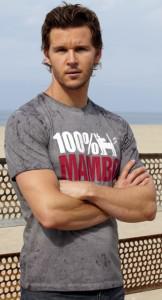 Aussies have known this brand for over 20 years, but in the US, the Mambo brand has only been available for a short time through Bon-Ton stores. Now all that is about to change. With Ryan Kwanten (who plays Jason Stackhouse in HBO's True Blood) on board, not only will he be the public face of this Aussie surfing icon, but he will also be releasing his own signature wear through the clothing brand.  Bud Bergren, President and CEO of The Bon-Ton Stores, Inc was quick to announce his excitement at having Ryan join up:
"We are very pleased with our partnership with Mambo and excited about being the first retailer in the US to offer this iconic Australian surfwear/streetwear brand. We believe Ryan will be an outstanding ambassador for this brand — and certainly one this customer will relate to. I am sure our younger customers will be thrilled, not only with the Mambo line, but with the exclusive designs Ryan will be creating for us."
Anyone out there own any Mambo stuff? Are you excited to be able to get your own little piece of Ryan in the 2012 Mambo collection?
Sources: Mambo – Ryan Kwanten Hearts Mambo
Market Watch – The Bon-Ton Stores, Inc. Announces Ryan Kwanten as Ambassador of Australian Surfwear/Streetwear Mambo
(Photo Credit: Mambo.com.au)