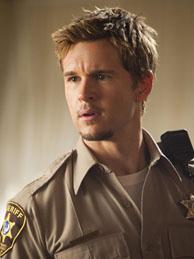 Quite possibly one of the biggest changes fans of HBO's True Blood saw last week when Sookie realized she had missed an entire year in Bon Temps, was the change in her brother Jason.  Ryan Kwanten, who plays Jason Stackhouse, talked with the Hollywood Reporter about what we can expect to see from Jason in Season 4, his friendship with Andy Bellefleur and that super tight deputy uniform.
In the Season 4 premiere we saw that Jason is now a deputy with the Bon Temps police department, he acted as a sort of drug counselor to Andy, and we saw the way he was taking care of Crystal's family in Hotshot.  It was almost like we were treated to an entirely new Jason and according to Kwanten, Jason's transformation is not yet complete:
"This is the season of the biggest growth for Jason.  He started, in my view, very low on the evolutionary totem pole, so he could only go up. This is a real season of where the young boy turns into a man. He's been given a position of power and he's now a cop. He's forced to try and raise a whole tribe of people, and then eventually fight for his life."
Oddly enough, one of the best friendships on True Blood has turned out to be with Jason and Andy.   The two bonded when they were taking on the town during the Maryanne situation and the friendship was cemented when Jason shot Eggs and Andy took responsibility for that.  Since then the two have bantered back and forth and argued like an old married couple which makes for amusing television.  Watching Jason call Andy on his V addiction and search his car shows how far the two have come . 
With his new position as a police deputy, comes a new uniform for Jason and fans couldn't help but notice how tight it was.  Not that we are complaining!  Kwanten tells HollywoodReporter.com that it is actually even tighter off-screen and it is painful to run in so if we ever see Jason running in the uniform to watch out for the pained look in his eyes.
It seems as though Jason's good deeds in Hotshot are about to have a life altering consequence for him as we saw that Crystal and Felton were in the process of biting Jason to transform him into a werepanther at the end of Episode 2. 
"This season really forces him to confront [the werepanthers] full-on, because he's now dating one.  When [Crystal] turns out to be not what he expects, there's some very interesting repercussions."
Although he does not provide details, Kwanten does say that we have not seen the last of Jason's days as a deputy.  He says that it will take all of the skills he learned while becoming an officer to get him out of that "hellhole" he is in. 
To read the entire interview with Kwanten click here.
Source:  Hollywoodreporter.com – 'True Blood's' Ryan Kwanten on Jason's Tight Friendships, Tight Situations, and His Tight Uniform
Photo Credit:  HBO, Inc.