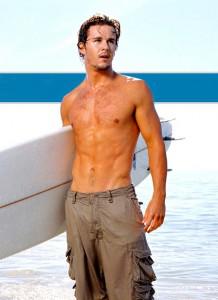 It must get hard for actors and actresses to do interviews and answer the same questions over and over.  However Life & Style Magazine took a slightly different approach to an interview when they recently spoke to True Blood's Ryan Kwanten (Jason Stackhouse).  While there were the odd question that has come up before (i.e. One Thing Nobody Knows About Me), the questions tended to veer away from "typical" interview questions.  In addition Kwanten also did a photo shoot for the magazine.  Here are some of the questions he was asked along with his responses. 
When asked what his most decadent meal ever was, he replied anything that involves extravagant buffets.  From looking at him you wouldn't think he would indulge in a good old fashioned buffet but according to Kwanten he is a big eater and loves those buffets.  He says it usually starts as a breakfast buffet which then turns into a lunch buffet and he is barely able to make it out of the restaurant.  We are betting that doesn't happen too often during filming when he has all those scenes without a shirt.
Kwanten was asked about his favorite hotel and apparently its right close to home.  He says that the Manly Pacific hotel in Sydney is his favorite and that staying there made him feel very lucky to have grown up there.
Here is something you may not have known about him.  When asked how he knew he had "made it because he could afford", he replied a bed.  We aren't even going to ask what he slept on before that.
Next up Kwanten was asked what the most romantic thing he has ever done was and this reply was a little strange as well.  He says the most romantic thing he's ever done was:
"This is not going to sound romantic, but I guess the most romantic thing is talking someone off the ledge, so to speak."
Interesting idea of romance!  But when it comes to someone romancing Kwanten, they can remember things he says in conversations or appeal to his sensibilities in order to woo him.
So how did he answer that question we mentioned about – "One Thing Nobody Knows About Me Is"?  Apparently he has a high arch in his foot. 
When asked about the person he would most like to meet and why, Kwanten replies:
"Steven Spielberg, because he's synonymous with film."
To read more of the Q&A with Ryan click here and be sure to pick up a copy of Life & Style which is on sale now.
Source:  Lifeandstylemag.com – My Life, My Style – Ryan Kwanten
Photo Credit: Lifeandstylemag.com