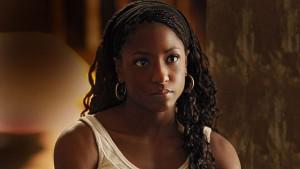 The True Blood cast has no problem keeping busy during their hiatus, with several appearing in movies, plays and other projects.  Rutina Wesley, who plays the often tormented Tara Thornton, has signed on to appear in the off Broadway show 'The Submission', alongside 'Glee's' Jonathan Gruff.  There hasn't been a lot of information released about Wesley's role in the show, but Groff will play Danny Larsen, an aspiring playwright with a new drama about an alcoholic black mother which he has written under a nom de plume. 
The show will be playing at the Lucille Lortel Theater and will begin preview performances September 8th running through to October 22nd.  For more information on tickets click here.
Source:  NYTimes.com - Jonathan Gruff and Rutina Wesley Named To Cast of 'The Submission'
Photo Credit:  HBO, Inc.