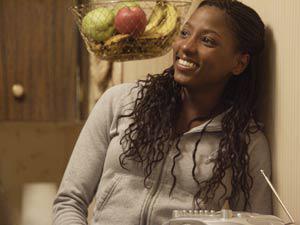 In a cast of vampires, telepaths, werewolves and shapeshifters, humans are in the minority.  One of the most tortured characters on HBO's True Blood is Tara Thornton, played by Rutina Wesley.  Tara has been through an alcoholic mother, was taken over by a maenad and last season became the target of obsessed vampire Franklin Mott.  Rutina recently talked with TVFanatic.com about Tara's struggles and what we can expect in Season 4.
In Season 3, Tara had to come to terms with the fact that her boyfriend Eggs was a murderer who was shot and killed.  During her downward spiral she met Franklin Mott, played by the wonderful James Frain, who was in Bon Temps investigating Bill Compton but quickly became obsessed with Tara.  Rutina tells TVFanatic that playing Tara can be emotionally draining but that she loves being challenged in that way.  When asked about working with Frain, Wesley said that it was an amazing experience.  He kept her on her toes and the two kept things light on set because of some of the craziness that happened between them.
So what can we expect to see from Tara in Season 4?  Wesley says:
"We will see Tara in a whole new light. She's stronger, fiercer, and has learned how to love herself. She's calmed down a bit and we will find out what she's been up to. But eventually she will be swept back up into the world of vampires and taken on a journey she never even dreamed possible."
Fans of Tara will enjoy seeing her not so tormented but the big question is will she ever find true love?  Wesley isn't telling but says we will have to see if Tara is ready for love yet.
We have heard that the True Blood cast is very close but one of the key friendships on the show involves Sookie and Tara.  When asked what it is like working with Anna Paquin, Wesley says:
"Anna is my girl. She has been lovely to work with. She is very generous as a scene partner and she has my back. I enjoy all our moments together because we actually get along really well on and off set and it makes work so much easier and our connection on-screen that much stronger."
In the interview Rutina says she likes being one of the few humans in that crazy world because her reactions make for great tv.  She says she read the first two Sookie Stackhouse novels by Charlaine Harris but because the television Tara is so different from the book Tara she did not continue. 
Click here to read the full interview with Rutina Wesley. 
We would like to thank TVFanatic.com for sending us this submission.  Truebloodfansource.com is always looking for news to post so if you have any tips, suggestions or articles you would like to see on our site, click here to contact us.
Source:  TVFanatic.com – Rutina Wesley on Tara's Season 4 Journey
Photo Credit: HBO, Inc.