True Blood's Rutina Wesley is making the best of her hiatus from shooting True Blood. She is to be seen next in the a play called "The Submission" in New York City.
Yesterday, August 8, 2011, Rutina was photographed at the photocall at the at the Second Stage Rehearsal Space in New York City.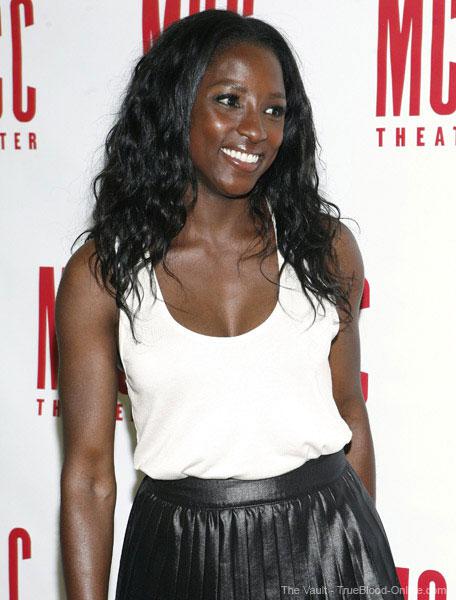 Nothing is black and white in Jeff Talbott's new dark comedy The Submission, according to the cast and creative team of the world-premiere production, now in rehearsal for Off-Broadway's MCC Theater. Jonathan Groff ("Glee," Spring Awakening) and Rutina Wesley ("True Blood"), their director (Walter Bobbie) and castmates (Will Rogers, Eddie Kaye Thomas) say they were drawn to the tale of about race, friends, authorship and authenticity because of the questions it raises. Read about the play here.
Tony Award nominee Jonathan Groff and "True Blood" actress Rutina Wesley, along with fellow cast members Will Rogers and Eddie Kaye Thomas, and director Walter Bobbie, met the press on their first day of rehearsal, Aug. 8, to talk about MCC Theater's world-premiere Off-Broadway production of Jeff Talbott's The Submission.
Playwright Talbott was named the inaugural winner of the Laurents-Hatcher Award for his comedy about a gay playwright (Groff) who writes under the female pen name and earns acclaim for his drama about an African-American family.
According to MCC Theater, "Shaleeha G'ntamobi's stirring new play about an alcoholic black mother and her card sharp son trying to get out of the projects has just been accepted into the nation's preeminent theater festival. Trouble is, Shaleeha G'ntamobi doesn't exist, except in the imagination of wannabe-playwright Danny Larsen, who created her as a kind of affirmative-action nom-de-plume. But a nom-de-guerre may prove more useful as the lies pile up, shaky alliances are forged, and everyone dear to Danny must decide whether or not to run for cover as the whole thing threatens to blow up in his lily-white face."
Below are other photos from the photocall session:








source: playbill.com/news