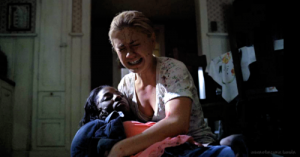 True Blood's shocking season 4 finale is a mere three days behind us, Truebies, and everyone is still buzzing about what went down in Bon Temps. (And, if you haven't watched the finale yet, then stop reading right now!) Probably the biggest shock of the night was Tara getting shot by Debbie Pelt (Brit Morgan), something which Rutina Wesley, who plays Tara, admits was shocking. But don't for one minute think that Wesley is angry about what happened. Wesley admitted to Entertainment Weekly earlier this week "…I'm excited either way. If it does all end, I've had the most amazing time of my life."
Wesley has been a part of the cast since almost day one (actress Brook Kerr was originally cast to portray Tara, but she was replaced immediately after the pilot episode) and has seen her share of ups and downs as Tara: dealing with her alcoholic mother, undergoing an exorcism, sleeping with her boss, befriending a Maenad, dealing with the death of her boyfriend, being abducted by an unstable vampire, moving to New Orleans and falling in love with a woman while juggling a cage fighting career, and finally moving back to Bon Temps to watch the season of the witch unfold. So, yeah, Wesley has created a name for herself, and her fans are loyal and emotionally vested in Tara (and now they're pretty upset!). So, where does Wesley see Tara in season 5?
"Well I mean half my head is missing… You know, it's True Blood. I feel like anything is possible. If anything, it is the golden hour though. If she is able to be saved, it's like she's got 20 seconds. It's not a lot of time… It's out there that Alan [Ball] has already said that he has big plans for Tara. But things change. I don't know exactly what they have in store for me and how long that will be. It's tricky. And if I did know, I'm just not going to say… The cool part is people are talking. And that's the question is: Is she dead or is she not? Because people can survive head wounds. But we have people on the show that can make things happen — you know what I mean? I don't know what's going to happen the first episode of next season. I'm just as excited and curious you are. I hope it's good. I hope I stick around for a while. That would be nice."
Shooting any kind of scene where a series regular gets seriously wounded or killed has to be as difficult as it is for die hard fans to watch it play out on screen. Wesley divulged that this specific scene was exceptionally hard to be a part of:
"I think we all went out afterwards — me, Brit and Anna — just to sort of have a little celebration. But it was very very emotional. I don't think there was a dry eye when we shot that scene. It's very clear the relationship when Tara goes, "I would die for you." Basically, I would take a bullet for you. That's not necessarily a best friend — she's like my sister. I think it was so amazing to see that. To see her walk in and go, "Oh, uh-uh." That goes to show you how much love Tara has. Anna in that moment I think played it so beautifully, and it was hard for me because I was like, "Okay, play dead. Play dead."
Where do you see Tara heading in season 5, Truebies? Is she truly dead? Or will Sookie (Anna Paquin) save her with faery magic? Or maybe Bill (Stephen Moyer) or Eric (Alexander Skarsgård) will turn her into a vamp? Let us know your theories in the comment section below.
Source: Entertainment Weekly – 'True Blood': Rutina Wesley talks last night's shocking finale and the future of Tara
Photo Credit: HBO